How to play live celebrity Blackjack Party with real CAD?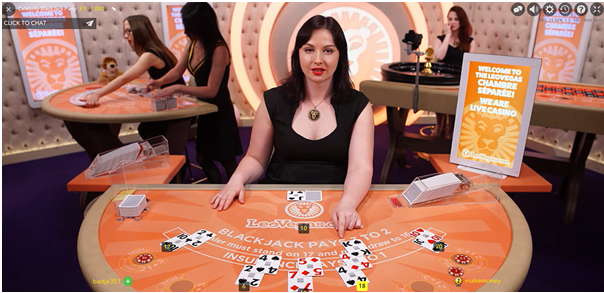 Live celebrity Blackjack party is available at many reputed online casinos but the most popular is Leo Vegas Canadian friendly online casino that offers this game to play even with your cell phone instantly without any download. Also you are offered CA$10 Free Money Bonus and Welcome Bonus up to CA$250 to play this game.
Live Celebrity Blackjack Party Game Play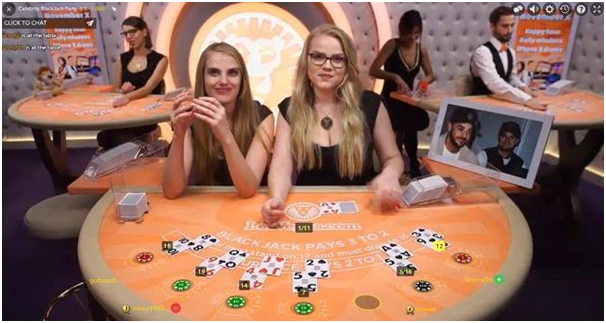 The Live Celebrity Blackjack Party Game is powered by Evolution Gaming and is streamed directly on your gaming device from the best of Evolution live studios located in Canada, Malta and Lativa.
With multiple cameras the deck used is 8 here offering high quality video with random shuffle feature and side bets. Actually this Blackjack comes with a unique, entertainment-oriented twist on a standard Blackjack version. Played on a seven seats table with a Bet Behind option, the game is streamed live and hosted by an experienced dealer duo who will keep the party going by chatting up the players, creating an illusion of an actual Blackjack bash.
Together with the Bet Behind feature which gives table access to endless number of players, Celebrity Blackjack Party includes two additional side bets, Perfect Pairs and 21+3. Unlike some of the Blackjack tables designed to accommodate players who prefer being focused on the game itself, Blackjack party aims at those who like nonchalant and fun approach and enjoy the interaction only live tables can offer.
How to Play Live Celebrity Blackjack Party Online?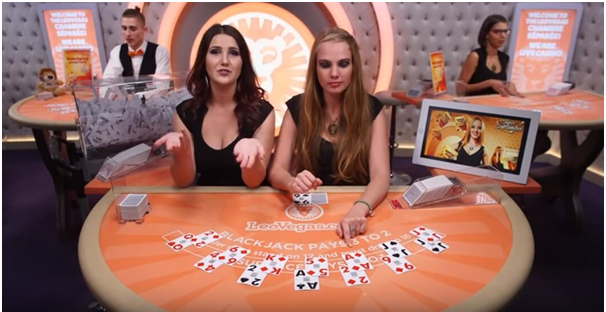 All you need is to visit Leo Vegas online casino and get yourself registered at once on your mobile or web browser be it chrome or safari on your cell phone or PC. Make an initial deposit of $20 or grab $10 free money bonus available at the casino. Go to live casino and click on the Live Celebrity Blackjack party.
The bets can be as low as $5 and as high as $2500 according to your paying capacity. Remember you need to stick to your bankroll and play wisely.
Betting time is limited and once you select the chips and place them onto the table betting area, one of the dealers will deal the cards – two cards facing up for each of the players and two cards for the house – one facing up (hole card) and one facing down. When the hole card is an Ace, the insurance option will be made available for the players.
Hands with the same ranked cards can be split and played as two independent hands. Also you can Double Down and ask for only one extra card. Double Down move is not allowed after the cards are split, but you can opt for this move after any initial hand.
Should you like to disregard the side bets completely, you can do that by removing them from the table using the advanced settings tab. As soon as you are ready to try your luck, you can simply check the box next to "Show all side bets" and all four betting options (Main, 21+3, Perfect Pair and Bet Behind) will be displayed on the table.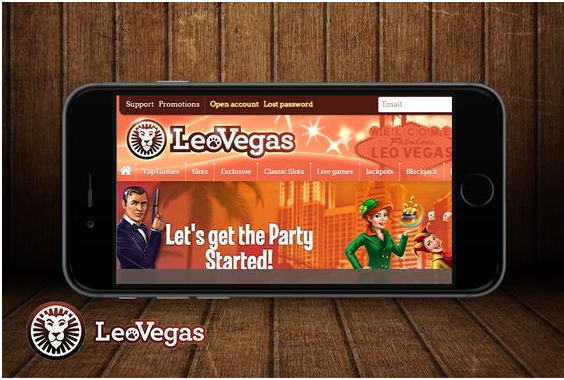 With amazing HD video quality and adjustable audio/video settings with features to pre-determine the duration of each new session and Live Chat to communicate between dealers and players you will love this game to play as a celebrity.
Remember that live casino is not allowed to play for free and you need to play with real money and for that you have to make a deposit. You can use Credit or debit cards, VISA/Master cards, Neteller, Paysafecard, Skrill and many others. Similarly you can withdraw with the mode you choose to make payment at the casino to play at live casino.