How to play Live 2 Hand Casino Hold'em at live casinos?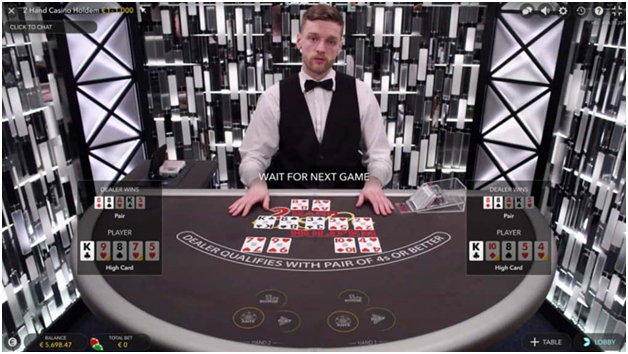 If you have ever played the exciting variation of the much-loved five-card Texas Hold'em poker game, Live Casino Hold'em then you know that here you play against the dealer, and not each other – so there's no limit to the number of players in any one game. This holds a massive attraction for operators as it brings substantial revenue opportunities for a relatively low investment. Also, a Bonus Bet and Progressive Jumbo 7 Jackpot side bet add further exciting betting options for players, with the Jumbo 7 Jackpot offering an increasing and potentially huge top prize, as well as lower level, fixed prizes.
Now at a live casino is unique Hold'em variant that doubles the fun known as Live 2 Hand Casino Hold'em, This most exciting five-card Poker variant ever, 2 Hand Casino Hold'em makes the classic Casino Hold'em game doubly entertaining with the choice of two hands for every player in every round.
Live 2 Hand Casino Hold'em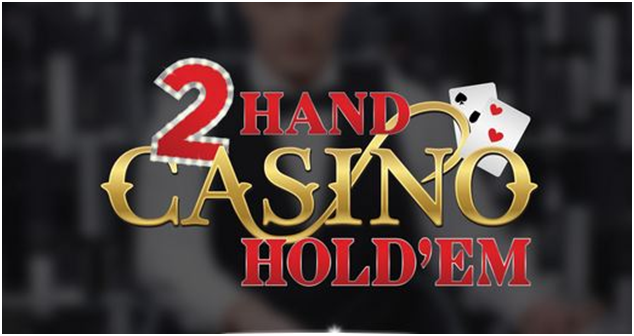 With this two-hand version of the game, you get the choice of playing one or two hands plus an optional Bonus bet that can be played on either or both hands. You can play this game on your mobile, PC or tablet. 2 Hand Casino Hold'em is yet another way to attract Poker enthusiasts to your Live Casino and to deliver maximum thrills and choice.
This live game powered by Evolution gaming offers a virtually unlimited number of players to play against the house and are dealt with two separate hands. Players may choose to bet on either hand or both hands, which adds considerable extra opportunity and excitement to every game round. Lose on your one hand in standard Poker and the game is over. But with two hands, the action, decision-making, and suspense continues and with two hands to play, there are even more chances to win!
The AA Bonus Bet

In addition to being able to play two separate hands in each game round, players may also place an optional Bonus bet on either or both hands. This Bonus bet pays out if a Pair of Aces or higher is dealt in the first five cards (made up of the player's two cards plus the first three of the community cards, the 'Flop' cards). The Bonus bet pays out regardless of whether the player beats or loses to the dealer in the main game.
How to play Live 2 Hand Casino Hold'em?
Your first choice with this game is whether to play one or both hands, by placing an Ante bet on either or both. Player hands 1 and 2 are then played independently.
You have the option to place a Bonus bet on either hand also.
Once bets are closed, the dealer deals 2 pocket cards to both player hands (face up), and 2 pocket cards to the dealer (face down). 3 community cards (the Flop) are then dealt with.
Once the Flop is dealt you have the option to fold and forfeit your Ante bet (Bonus bet remains in play if placed), or Call/Play in which case a bet equal to 2x your Ante is automatically placed.
The 4th (Turn) and 5th (River) community cards are then dealt and the dealer's pocket cards revealed.
The players' and dealer's hands are compared to determine the winner – the best 5 card poker hand combining pockets and community cards and applying normal poker hand ranks.
Your Ante, Play and Bonus bets pay according to the below win conditions and payout tables.
Win conditions for the Ante and Play bets are given below. Dealer qualifies with a pair of 4s or better.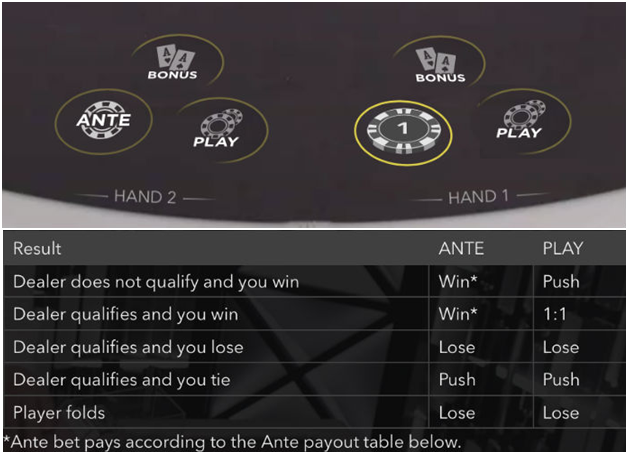 The Bonus bet pays out based on the player hand comprising the pocket cards and Flop only, in accordance with the below payout table. It pays out regardless of whether you folded or played your Ante on that hand.
Ante and Bonus bet payout table
The Ante and Bonus bet payout tables are identical to those of the old Casino Hold'em Poker table, and are as follows:
| | | |
| --- | --- | --- |
| Hand | Ante Bet Payouts | Bonus Bet Payouts |
| Royal Flush | 100 to 1 | 100 to 1 |
| Straight Flush | 20 to 1 | 50 to 1 |
| 4 of a Kind | 10 to 1 | 40 to 1 |
| Full House | 3 to 1 | 30 to 1 |
| Flush | 2 to 1 | 20 to 1 |
| Straight or less | 1 to 1 | 7 to 1 |
With identical house rules and pay tables to the regular Casino Hold'em table, it comes as no surprise to find the theoretical returns applying to the Ante and Bonus bets for 2 Hand Casino Hold'em are the same.
That is: Ante bet: 97.84%;Bonus bet: 93.74%     
Where can you play Live 2 Hand Casino Hold'em in Canada?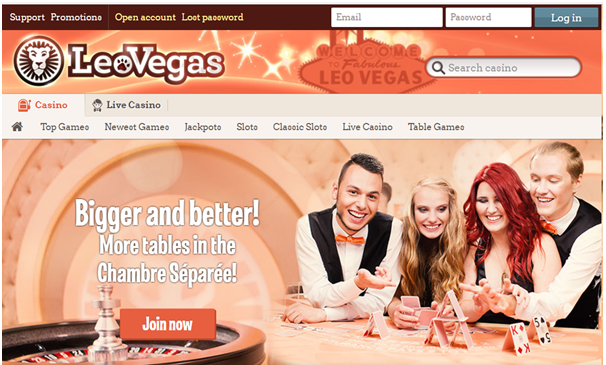 You can play Live 2 Hand Casino Hold'em at online Canadian casinos that are powered by Evolution gaming like Leo Vegas casino. You can simply join these casinos with your mobile or PC and make a deposit of $10- $25 with CAD and enter live casino to select Live 2 Hand Casino Hold'em table and click to play.