How to play at Live Casino Canada with Apple Pay?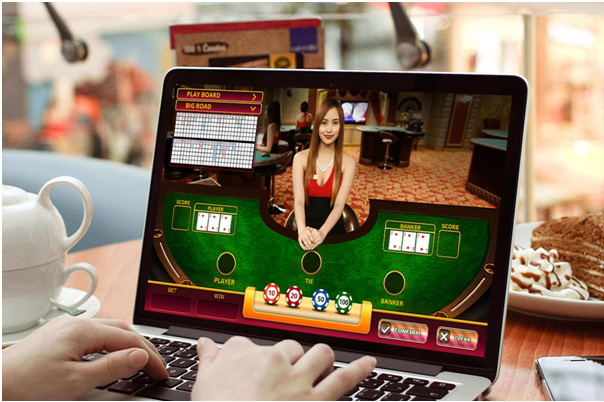 Recently this year Apple rolled out a new payment method Apple Pay for iTune app purchases for Canadians. Apple Pay is easy and works with the Apple devices you use every day. You can make secure purchases in stores, in apps and on the web. Similarly you can play slots or live casino games in Canada with Apple Pay. Before you come to know as how Apple Pay works in Casinos, note that there are very few online Canadian friendly live casinos that accept Apple Pay as one of their deposit options to fund your casino account. This is because Apple Pay is one of the newest options to make your deposits at online casinos to play real money slot games. This deposit mode is yet to come to all online casinos. This payment mode is simple to process, speedy and offers great security.
What is Apple Pay?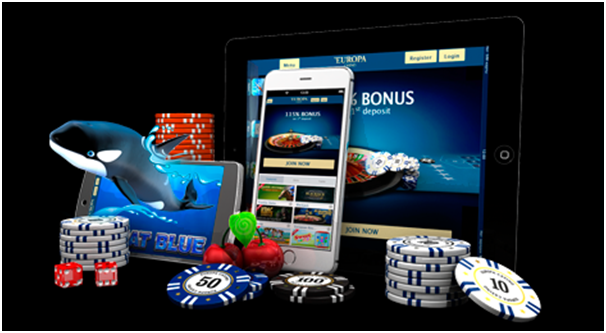 Apple Pay is a digital transaction service that allows you to keep your credit cards on your phone, so you don't have to carry a wallet everywhere you go so you can tap to pay with your smartphone at any supported Near Field Communication (NFC) terminal, but securely with Touch ID, without needing to have your physical cards on you.
Apple Pay Casinos allow players to fund their accounts directly through the phone app, giving them the opportunity to keep their private financial information off of the casino as well as making things incredibly convenient. Casinos that accept Apple Pay are offering you the same incredible casino experience you've come to rely on, but with the added convenience of a new, easy to use deposit method.
TD and Scotiabank are also live with Apple Pay for their credit and debit cards. Also Royal Bank of Canada and Canadian Imperial Bank of Commerce bank customers can now add their bank-issued debit or credit cards. ATB Financial and Canadian Tire Financial customers can add their credit cards too. TD Dominion Bank, Bank of Nova Scotia and Bank of Montreal are also joining Apple Pay.
Click here to find all the banks supporting Apple Pay
How to play at Live Casino Canada with Apple Pay?
Before you start using Apple Pay at Live Casinos Canada you need to set up this payment on your device that is your iPhone.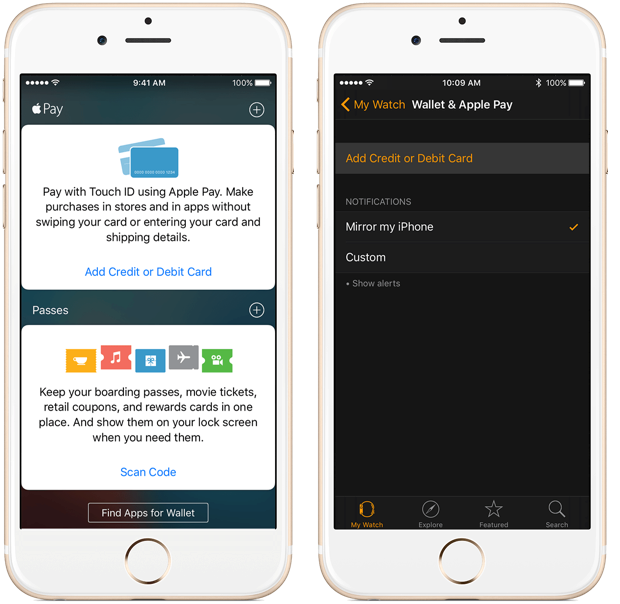 The following devices work with Apple Pay: iPhone 6, iPhone 6 Plus, iPhone 6S, iPhone 6S Plus and iPhone SE. Apple Pay is also on iPad Pro, iPad Air 2 and iPad mini 3 but lacks tap to pay, so you're limited to in-app purchases. You can also use the Watch for Apple Pay, which means you don't need your phone on you to make a payment.
To get started, Open your iPhone and go to settings
Under Wallet & Apple Pay there is a link: "Add Credit or Debit Card". Clicking on that shows you a commercial for why this is a good idea (which warns "Apple may use anonymous data location to improve its services"), and then hitting Next activates your camera and a credit-card shaped window.
Line up your card with that window and it will read the numbers on it (you can also just use a keypad).
Then once you do the usual expiration date and security code routine, you have added a card to Apple Pay.
It will then ask if it can "Access your location while you use the app?" which it says will be used to show "relevant passes" and "identify store locations." Apple Pay will still work without this extra layer of tracking data, but it's entirely your choice to trust them with it.
Funding your Apple Pay account is incredibly simple. Apple Pay works like a digital wallet, allowing you to add as many credit and debit cards as you'd like to your wallet.
Click here to know in detail as how to use Apple Pay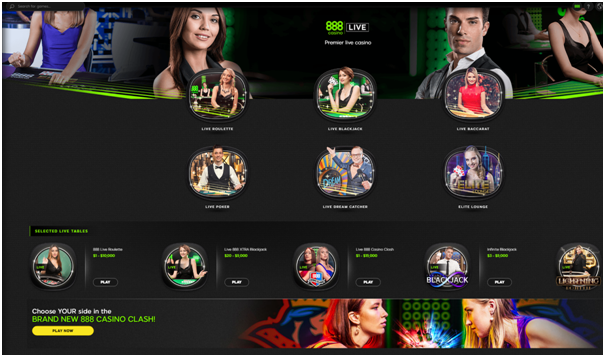 Once you have set up Apple pay simply go to Apple Pay Live Casino Canada. As said earlier there are very few of the live casino with Apple Pay so there are not many options. Currently 888 Live Casino Canada is the best example to play Live dealer games with Apple Pay.
Visit 888 live casino Canada by just typing the casino URL https://ca.888casino.com/live-casino/ on your iPhone or IPad
Once done register yourself as a new player by filling a short form with your details, mobile number and currency CAD to play.
After this go to deposits and find Apple Pay to fund your casino.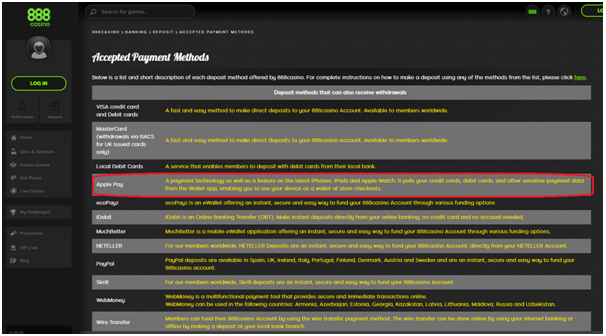 When you use Apple Pay at an online casino, it is processed the same way as an eWallet. So when you choose Apple Pay from the list of casino deposit methods available, it will open the app for you and allow you to choose which card you want to use. Then, you can either verify the payment with a passcode or with touch ID. It's as simple as that. The whole process takes minutes at most and then you're instantly able to start betting on all of your favorite slot games at Apple Pay casinos.
At 888 Live casino Canada if you don't see Apple Pay in the list then Click on More Deposit Methods; you will be presented with a menu of all of the payment methods accepted from your country of residence.
After the deposit grab 100% UP TO $200 WELCOME BONUS to play live dealer games. 888 Casino Canada has an impressive selection of casino games available. Include Live Roulette, Live Blackjack, Live Baccarat, Live Poker, Live Dream Catcher, and the prestigious Elite Lounge. With so much variety to choose from, there is a game for each one of you.
888 Casino Canada has packed the live casino arena with plenty of exciting promotions. You are offered $1,200 in daily bonuses when you play Live Blackjack VIP Style with this live casino VIP bonus promotion Huge daily bonuses are available. Simply take your seat, and if you receive a Bonus card, you will win the bonus amount displayed on that card! Place your bets at the 888 Live Casino Roulette tables and if the winning number is 8, you stand to win an extra $8 bonus. Also Live Casino Daily Lucky 8 takes place between 8 PM and 9 PM GMT daily at this casino.
Click here to find the live dealer games at live casino
Points to remember when using Apple Pay at live Casino Canada
As an added security feature, Apple Pay only works on payments under $100 (anything over that, you have to enter a separate PIN).
Where Apple Pay adds function is in security your iPhone needs to read your fingerprint in order for a tap transaction to process. Right now, anyone who might have grabbed your NFC-enabled credit card could tap your money away without having to prove their identity. With Apple Pay, a virtual credit card number is created so if you lose your phone you don't have to cancel your credit card; it can just be deactivated remotely.
Instead of entering your credit card details on your smartphone, you can also use Apple Pay on some apps that support digital purchases.
First, when you use Apple Pay casinos, your deposit will be credited to your account instantaneously. When you do request a deposit using Apple Pay casinos, you can verify it with your touch ID. If you don't want to use touch ID, you can just use your passcode.
Also you don't even have to pay a fee to use this service. Using Apple Pay casinos comes with absolutely no fees attached. So it doesn't matter if your deposit is for $10 or $100, it's free.
The minimum amount you can deposit is $5. The most you can deposit is $5,000. Remember that Deposit limits do not reflect the wager limits.
The only drawback with Apple Pay is that there is no way to retrieve your funds if you use Apple Pay to fund your account. As of right now, there are no Apple Pay withdrawal methods. Which means you'll have to work with the online casino to find another way to collect any winnings. Besides 888 live casino Canada, Bet365 Casino is another casino that accepts Apple Pay from Canadians.