Four Live Bonus Games to Enjoy at Live Crazy Time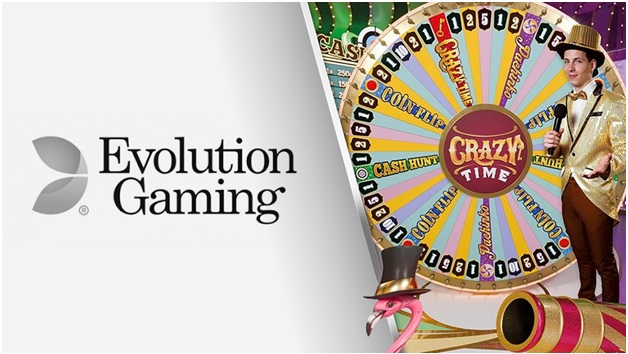 Few months back Evolution gaming launched a new Live casino game show called Crazy Time. Evolution gaming is well known for its live casino games and offers awesome live dealer games. Be it table games of Blackjack, Roulette, Baccarat or Poker, Evolution also offers many wheel games that operate live.
The unique thing about Crazy time live game is that it has four different bonus rounds. The first bonus round is Pachinko which is similar to connect four and pinball and comes with unlimited doubles. The second bonus round is Cash Hunt which has a game show theme and gives players a chance to win up to 25,000x. The third bonus round is Coin Flip which has the ability to pay out 5,000x. Lastly, Crazy Time is the fourth bonus round which displays the biggest dream catcher in front of a funky background. Crazy Time comes with an RTP of 95.5% and has the ability to pay out 160,000x! Simply Wow, right.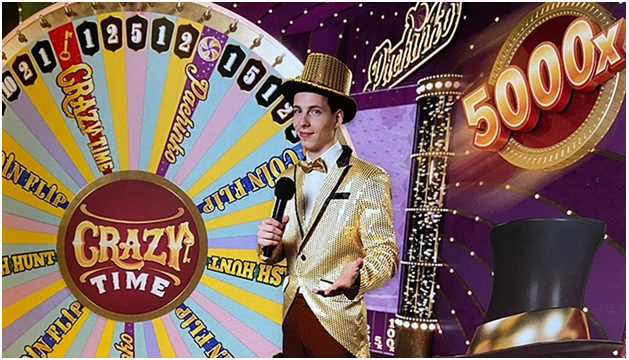 JACKPOT: 25,000,000
BONUS ROUNDS: 4
VOLATILITY: HIGH
BET RANGE: 0.10 – 1000.00
PROVIDER: EVOLUTION
DEVICE: DESKTOP / MOBILE
Four Live Bonus Games to Enjoy at Live Crazy Time
This one exciting aspect of the new Evolution creation is that Crazy Time has been designed to have four different bonus rounds and on every spin, a multiplier will be added to one of the bonus games. To make things even more jaw-dropping, on average you can expect to trigger a bonus round every 6 spins.
1. Pachinko Bonus Game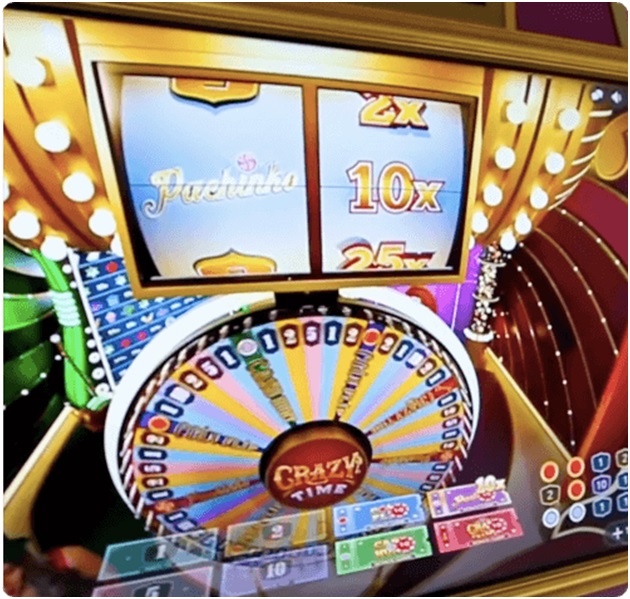 The first bonus round Crazy Time has to offer is Pachinko. At the bottom of the bonus, there will be a row of prizes lined up. The idea of the round is that an electronic ball will be dropped at the top of the reels, slowly making its ways down to the prizes similar to pinball and connect 4.
Depending on which slot the ball lands in, will determine which prize you win. In this bonus round, you can collect unlimited doubles, which will increase your winnings splendidly.
When activated the host of the game will head to the top of the Pachinko game where they are instructed at random where to place the ball. This will then make its way down the game to where it will come to a rest in a multiplier value or the word double.
If the the ball stops in a multiplier value then your stake will be multiplied by that amount and the bonus will end. If however the ball lands in the double section then all multiplier values will be doubled and the ball will be dropped again. Multiple doubles can be awarded, with the max value of the multipliers being able to reach 10,000x.
The Pachinko bonus also sees Evolution Gaming offer a replay if the winning total is a low value. If this occurs then new multipliers will be generated and the bonus round will be played again.
2. Cash Hunt Bonus Game
Cash Hunt is the second bonus round you can enjoy. When you first enter the bonus round you will discover a grid of 108 different multiplier prizes which you can win. The dealer will then pull the big golden lever which scrambles all the prizes on the grid and hides them under colourful icons which consist of Star, jokers hat, Parcel, rabbit, cactus, a cupcake, and a chicken.
You will then see a sniper scope appear on the grid, which you can move around with your mouse to shoot one of the icons to reveal your prize. Cash Hunt has the ability to pay out up to 25,000x your bet.
3. Coin Flip Bonus Game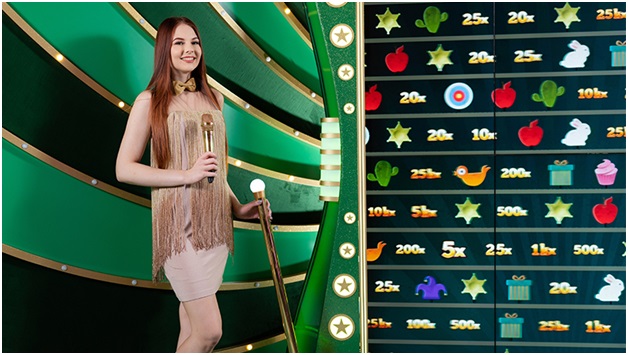 Coin flipping is the third bonus which as you can imagine, involves flipping coins.
Above the machine two random multiplier amounts will be designated to each colour and then the coin will flip. Whichever side the coin lands on, that multiplier amount will be applied to your stake. A nice little feature that has been added to this game is that if the winning amount is a very low value, then a rescue flip can take place. This will see new multipliers added to the coins and the coin flipped again.
There will be a screen which displays a coin which has one blue face and one red face. Once the coin stops flipping it will display two different multipliers.
Beneath the screen, there will be a bowl which holds another coin. This coin will then flip at the screen hitting either the blue or red coin. Depending on which coloured face of the coin it hits will determine your prize. Coin Flip has the ability to pay out up to 5,000x!
4. Crazy Time Bonus Game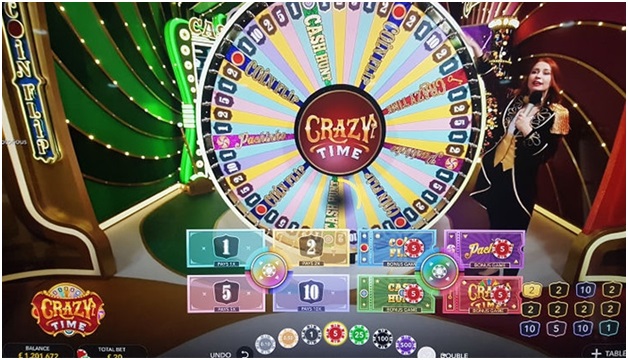 Crazy Time is the last and final bonus round you can explore. With a fun and wacky background, you can expect to find a big wheel surrounded by floating octopus, ballows, trains and much more!
The virtual wheel contains a total of 64 positions that are populated with multiplier values and doubles & triples galore. Your role in this bonus round is to select the colour of your flapper with green, blue, or yellow being the options that are made available to you. When the wheel comes to a halt you will be awarded the value that your selected flapper stopped at, if this was a double or triple then all multipliers will be be doubled or tripled and the wheel will be spun again. This will continue until all players have won a multiplier amount, with the max value multipliers can reach being 20,000x.
So this means at the beginning of the round, you need to select which flapper you want to use. The wheel which displays multiple different multipliers will then be spun. Once the wheel comes to a stop, your prize will be determined by the coloured flapper you chose at the beginning.
The Crazy time bonus round has the ability to pay up to 160,000x and comes with an RTP of 95.5%. It is clear to see that Evolution has put a lot of innovative thought into this new game and the graphics and designs are like no other game out there!
How to play Crazy Time Live Game?
To play Crazy time live game visit any Canadian friendly online casino that offers live casino section
Register yourself as a new player or as an existing player simply login.
Make a deposit and open your casino account in real time to play live Crazy time game
Go to live casino, find crazy time live game. So initially you're going to need to choose a bet size to play at, these range from as little as $0.10, with the highest bet available on Crazy Time coming in at CAD1000.
The increments in which you can bet at are laid out in front of you, so it's possible to tailor your stake size to the exact amount that you would like to bet.
The next thing you need to is of course decide what you're going to bet on. There are multiple options that are placed around the wheel and they comprise of both numbers, and bonus rounds.
Note that you can bet on multiple outcomes on any spin that takes place.