How to play Power Blackjack?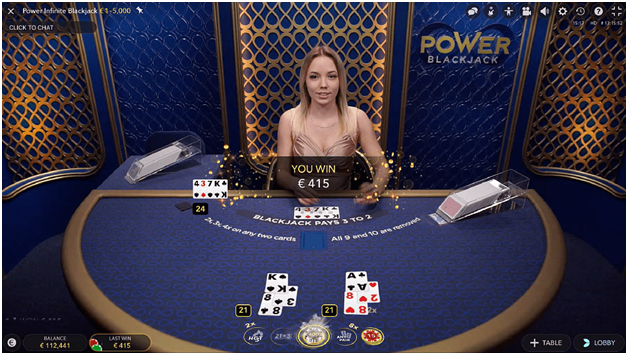 Power Blackjack is a game variation based on Evolutions gamings regular Blackjack and their Infinite Blackjack.
Players can now multiply their winnings compared to regular Blackjack. In every game round, you can choose to double, triple or quadruple a bet on any two initial cards, even after a split! The dealer will also check for Blackjack on J, Q, K, and Ace. Power Blackjack comes with four side bets: 'Hot Three', '21+3, 'Any Pair' and 'Bust It'. There is no Six Card Charlie rule.
This game features Multiply (2x, 3x, 4x) the double down bet on any two initial cards, Multiply (2x, 3x, 4x) on Split hands and has a theoretical payout: 98.80%
To play power blackjack you can Double down, triple down or quadruple down on any two initial cards., Multiply your double down bet on split hands and enjoy multiplied winnings.
Like regular blackjack but you'll have the chance to bet on any two initial cards and a chance to triple or quadruple your bet.
Evolution has standard seven seat Blackjack offers the largest number of standard and VIP tables from a single source for players on multiple devices. It's the fastest, slickest, richest-featured regular online Live Blackjack game anywhere. Endlessly entertaining, with added-value features such as optional 21+3 and Perfect Pairs side bets, plus initial decision, Bet Behind and a 'DEAL NOW' button to quicken the pace and pulse still further and add huge scalability. The friendly, professional dealers greet players and interact throughout the game. Players take their virtual seat and try to achieve a hand that's closer to 21 than the dealer's hand. It's really simple to enjoy the game with its choice of optional Insurance, Double Down and Split Pair bets. Live Blackjack tables include a wide range of tables from low stakes up to VIP to suit all player types.
How to play Power Blackjack?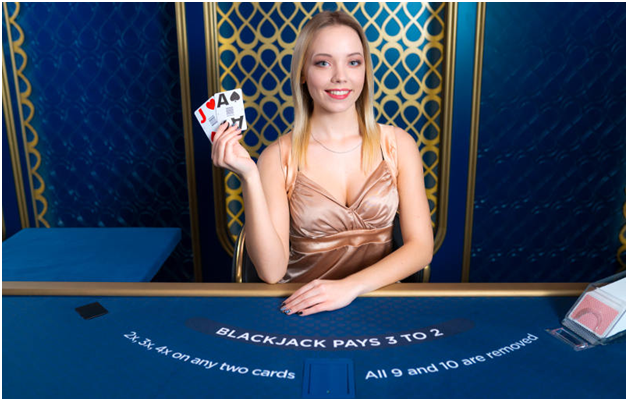 If you already know how to play blackjack there are a number of rule changes and playing strategies you need to adopt when playing Power Blackjack.
Both Power Blackjack and Standard Blackjack games are played with 8 decks.
The game is played to Vegas Rules (where the dealer gets 2 cards).
The dealer peeks for Blackjack
Dealer stands on all (Hard and Soft)
Double Down possible on the initial 2 cards
Split any pairs
Split Aces only get one card
Blackjack pays 3:2, insurance pays 2:1.
Differences between Power Blackjack and Regular Blackjack
All nines and tens have been removed from each deck
The eight-deck dealing shoe contains 352 cards rather than 416
The dealer will peek for Blackjack when he has a Jack, Queen, King, or Ace
Insurance is only offered when an Ace shows
Players can Double, Triple, or Quadruple down on the first two cards and splits
Basic Blackjack Strategy doesn't ; apply you ll need to use a Power Blackjack Strategy.
Power Blackjack is a One-To-Many game, which means an unlimited number of players play the same hand, with each player able to make their own playing decision. The decision is remembered by the system. When the game round has completed, your playing actions are compared with the outcome of the dealer's hand. If you beat the dealer, you've won and will get paid. A tied hand will result in a push and your stake will be returned. If you lose, your main playing bets are lost.
Betting on Power Blackjack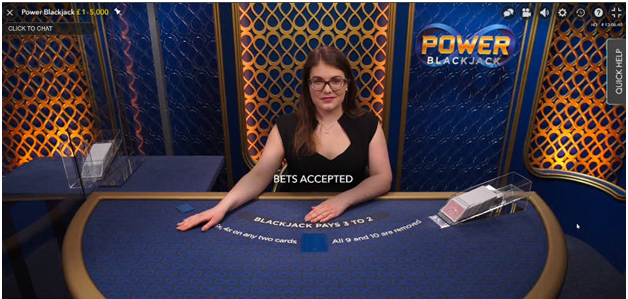 The Power Blackjack game round starts with Betting Time which is open for 12 seconds; so you need to be quick.
An initial bet is placed to play the hand; sometimes its referred to as an Ante Bet.
Then there's the opportunity to play up to 4 optional side bets:
Hot3: You are betting on whether the players first two cards and the dealers up card make of total of 19, 20, 21 or are 3 sevens
21 + 3: This is a bet on the players first two cards and the dealers up card forming a 3 card poker hand.
Any Pair: whether the players first two cards form a pair
BustIt: This pays out of the dealer busts. The more cards he busts with the greater the payout! After Betting Time has completed the dealer deals two cards face up to the player position and one card face up and one face down to the dealer position. This is where the first action of the game round comes
The player has to make a playing decision on what to do next.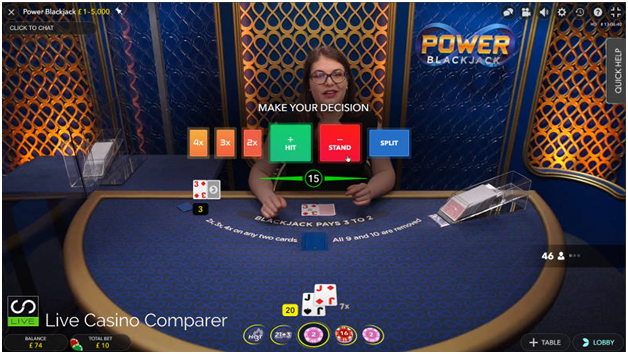 Depending on the cards that have been dealt to the player, there are six possible options to take
Hit: To keep taking cards until the player decides to Stand or the hand goes bust. Remember the aim is to beat the dealer by either getting a hand as close to 21 without going over or forcing the dealer to go bust while you have a valid hand
Stand: To stop taking cards and remain on the hand thats been dealt to that point
Split: Where the players hand contains a pair, the player can decide to split the hand into two hands and then play them independently
Double, Triple, or Quadruple: the main bet by taking only one additional card. Its possible to take this action on Split hands as wellDeciding what to do can be tricky. This is where having a playing strategy comes in handy.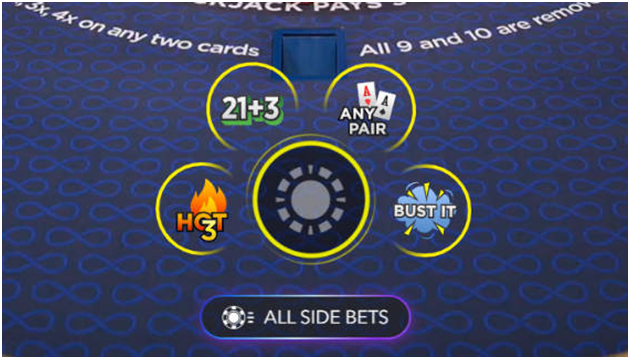 Then it's the dealers turn. Once all players have made their playing decisions the dealer can then act. The dealer has one rule that he has to follow:
If his hand is 17 or above he has to Stand
If it is below 17, the dealer has to keep taking cards until he hits 17 or above or goes bust
The dealer stands on Soft and Hard 17.
Evolution Power Blackjack Strategy
Evolution Power Blackjack is not the same as other versions of Power Blackjack youll find online. So be very careful when you are looking for a playing strategy for Power Blackjack, as there are a few out there and they are not suitable for this version of the game. Remember, the 9s and 10s have been removed from the decks
Power Blackjack Strategy suggests the action the player should take after his first two cards have been dealt. The action is dependant on the value of the players hand and the visible card of the dealerEvolution points out that this may not be the most optimal method to play the game. But its what they have used to create the RTP for the game, which stands at 98.80% based on the first hand in the shoe
Splitting Strategy
Split 2s if the dealer has a 6, otherwise hit
A Pair for 3,s should be split if the dealer has 2-8, otherwise hit
Split a pair of 4s if the dealer has a 6, otherwise hit
Never Split a pair of 5s
Split a pair of 6s if the dealer has 2-8, otherwise hit
A pair of 7s should be split if the dealer has 2-7, otherwise hit
Always Split a pair of 8s
Never Split a pair of Jacks/Queens/Kings
Split a pair of Aces when the dealer has 2-6 and 8-JQK, otherwise hit
Double/Triple/Quadruple Down Strategy
When doubling down, bet either 2/3 or 4 times
Double down on a pair of 5s when the dealer has less than 10. Otherwise hit
On a hard 10, Double down if the dealer has 2-7, otherwise hit
On a hard 11 double done when the dealer has 2-8. Otherwise hit
With a soft 15 and 16 double down if the dealer has a 6. Otherwise hit
With soft 17, double down when the dealer has 5-6. Otherwise hit the hand
On soft 18, double down if the dealer has 2,4,5,6, otherwise take a card
On soft 19 double if the dealer has a 6. Otherwise hit.
Hit or Stand Strategy
Always hit on a hard 14 or less
Hit on hard 15 unless the dealer has a 5
Hit on hard 16 unless the dealer has 2, 4-6. In that case you should stand
Stand on a hard 17 unless the dealer has an Ace
Always stand on hard 18 or more
Hit on soft 17 or less
Stand on soft 18 unless the dealer has 8-Ace, then you should hit
Stand on soft 19 or more.
Now join any Canadian friendly live casino and play Live Power Blackjack.