How And Where To Play Live Amber Blackjack Online?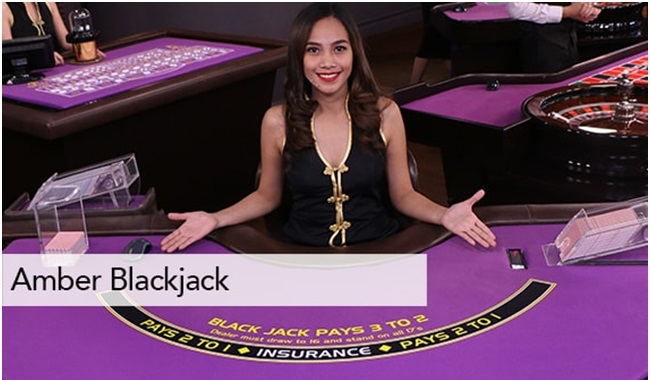 Live Amber Blackjack is the live casino Blackjack online game to be played with real CAD at Live casinos in Canada. Live Amber Blackjack is powered by Playtech and is almost similar to the regular live Blackjack game.
This game of Blackjack is played using eight decks of cards and with seven main players seated at the table. There is a feature called Bet Behind where there are unlimited number of players. The object of Blackjack is for the total of your cards to be closer to 21 than the dealer's cards, without exceeding 21. In Blackjack, Aces count as either 1 or 11, face cards as 10, and number cards at their face value. Blackjack beats a score of 21.
The dealer draws cards until 16 and always stands on 17 (including soft 17). If you receive an Ace and a ten-value card as your first two cards, you have Blackjack and win 1.5 times your bet (if your bet was 10, you receive 25). If the total value of your cards is closer to 21 than the dealer's, you win your bet amount (if your bet was 10, you receive 20). If the total of your cards is more than 21, you are bust and lose your bet. If you and the dealer have the same card total (17 and up) neither win, and your bet is returned to you in a push.
If your first two cards have the same value, you may split them into two separate hands by placing a second bet equal to the original bet. You will then draw additional cards to each hand. You may not Split a split hand.
You may draw as many cards as you like on each split hand, but if you split two Aces, you receive only one additional card for each Ace. If you receive an Ace and a ten-value card in a split hand, it is considered 21 and not Blackjack. In this case the payout is 1:1, not 1:1.5.
If, after you are dealt your first two cards, you think that the third card will allow you to beat the dealer's hand, you can double your bet. The bet amount becomes twice the original (with the difference taken out of your balance), and you are dealt one more card.
You may Double after splitting. If you Double and dealer's first card's value is 11 (Ace), and the dealer gets Blackjack, you lose both bets. If dealer's first card's value is 10, and the dealer gets Blackjack, your Double bet is returned to you.
Insurance on Real Money bet
If the dealer shows an Ace in his initial hand, you are given a chance to insure your bet against him having a Blackjack. If you get Insurance, an amount equal to half your original bet is placed separately on the table. If the dealer does have Blackjack, you are paid 2 to 1 on your insurance. This way you do not lose your original bet (because you get the 2x half your original bet, plus the insurance amount back). If the dealer does not have Blackjack, you lose the insurance amount, even if you end up losing.
Note that you can insure any Real Money bet, but not a Golden Chip bet. If the game supports Multi seat feature, insurance is applied on all the position the you have occupied, except for the position where the you have used Golden Chips.
It is theoretically possible for you to draw 10 cards without going bust. In this case your hand automatically wins, except when the dealer has Blackjack. The maximum win from a single game is $250,000
How and Where to Play Live Amber Blackjack Online?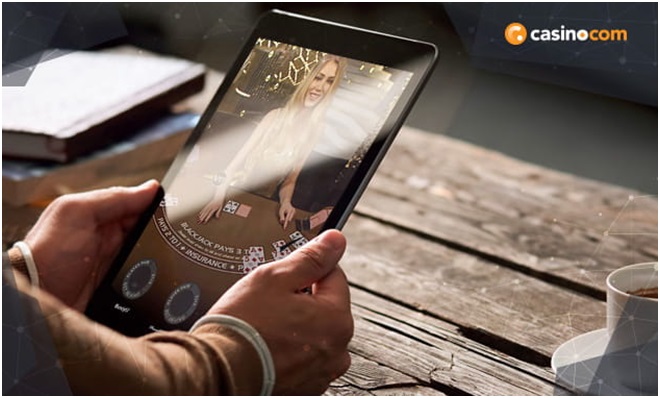 To play Live Amber Blackjack online you need to join any Canadian-friendly online Live Casino like Casino.com that is powered by live Playtech games.
After the formalities of joining the live casino and making a sum of deposit in CAD simply go to live casino section and find Live Amber Blackjack under the Blackjack section.
If a game round is in progress when you enter the table, please wait for the next one, and then, place your bets.
To place a bet, choose a chip and place it on the betting position.
You can place several chips on different betting positions simultaneously.
The timer in the game window shows how much time you have left to place your bets.
You must confirm your bet. This can be done either manually, by using the Confirm button after each bet, or automatically at the end of betting time. If your service provider has enabled auto-confirmation, it is on by default and the Confirm button does not appear. You can switch the feature off in game settings.
After the No More Bets signal, the game round begins.
Winnings are paid for the winning bets at the end of each game round.
To play a game round, place your bets again or use the Rebet button.
To skip a turn, simply do not place any bets on the table.
Once the main bet is placed and confirmed, if the Multiple Bets option is supported and the betting round is still open, additional bets are accepted.
After betting round, use Hit, Stand, Double, Split and Insurance (if the dealer's first card is an Ace) buttons to take action.
If you do not make a move, you automatically Stand. If you choose to Double, an amount matching your main bet is taken from your balance and your main bet is doubled.
If every player at the table busts (scores higher than 21), the round is over. The dealer does not draw additional cards.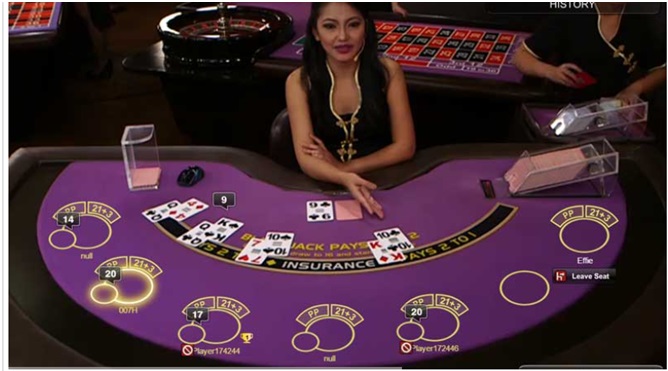 Bet Behind Feature
Bet Behind allows you to participate in the game by following the actions of the main players and making bets on their hands.
Bet Behind option is available only on the positions that are occupied by main players. You can become a Bet Behind player on multiple positions simultaneously. When you are participating in the game as a main player, you can also play as a Bet Behind player on all other positions, other than your own.
As a Bet Behind player, you automatically follow the actions of the main player, unless they chose to Split or Double and you do not have sufficient funds to do the same. In that case, if the main player Doubled, you Hit & Stand; or, if the main player Split, you follow the right main hand. Insurance is not available to Bet Behind players.
If you make a Bet Behind bet on a player's hand who decides not to make a bet during the betting round, your bet is then returned to your account. Bet Behind bets limits are displayed in the Table limits panel.
Deal Now Feature
Deal Now feature aims to speed up the game flow when there are only a few players at the table. You can use the Deal button to request that the betting round will end early, because you have finished placing your bets and are ready to play.
Deal button may be available in one game round and disabled in the next — this depends on the number of players sitting at the game table.
Note, that if auto-confirmation of bets is disabled, the Deal button is enabled only after you have manually confirmed your bets. Also, Bet Behind feature is not available after the Deal button has been activated.
Side bets
These are wagers that you can make beyond the main game bet. These cannot be placed without the main bet.
This is a type of a side bet that allows the players to bet that the first two cards dealt to the player, combined with the first card dealt to the dealer, will make a three-card poker hand against the following list of winning hands:
Suited Three of a Kind – All three cards of the same suit and value
Straight Flush – All three in sequence and of the same suit
Three of a Kind – All three of the same ranking
Straight – All three cards in sequence but not the same suit
Flush – All three cards of the same suit
But only this feature is available if the 21+3 side bet must be enabled by the service provider.
Now join the live casinos here and play this wonderful game of Blackjack in real time.