How to play live Mega Ball at live casinos in Canada?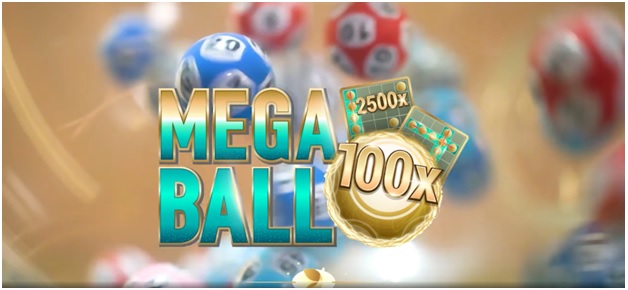 Live Mega Ball is a unique, entertaining and fast-paced game show, featuring one or two Mega Ball bonus rounds in which you have the chance to win even more with added multipliers! It's all about getting as many lines per card as possible —the more lines you get, the more you win! This new game is the combination of the familiar bingo-style game mechanics with lottery bouncing balls to create a unique and thrilling online live dealer variant, with all the elements of a world-class casino game show. So this unique new game is for the lottery and bingo lovers! You'll get a chance to trigger wins of up to 1,000,000x.
This dazzling game show, available exclusively from Evolution, is set in a vibrant and colourful studio, an environment that perfectly frames the main attraction, is their custom-built ball drawing machine, that houses the 51 multi-coloured numbered balls.
This exciting and fast-paced game is exceptionally simple to play. All players need to do is set the value of their cards and purchase their desired number, up to 200 per game round. The anticipation builds as they watch the balls drawn match with those shown on their cards, to make lines and potentially win!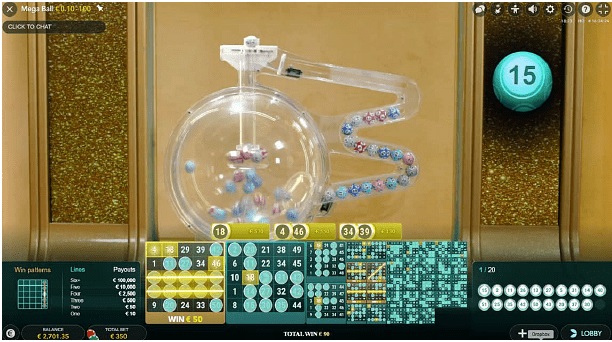 In Mega Ball, 20 balls are quickly drawn individually from the automatic ball drawing machine. As the balls are released, the matching numbers on players' cards are automatically marked off. The cards are also automatically re-arranged in the user interface, with the one closest to winning placed at the top. The numbers the player needs in order to win will be highlighted above the cards together with possible winnings if these numbers were drawn.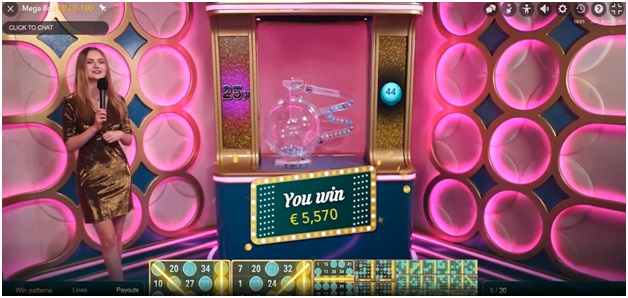 When the last ball is drawn, a Mega Ball multiplier between 5x-100x is generated and the whole studio lighting is completely transformed, as well as the user interface highlighting the ideal numbers for a win, to build a sense of excitement and anticipation. If the Mega Ball completes a line, players' winnings are multiplied accordingly, with a chance of winning up to 1,000,000x!
There is a small chance for the excitement to continue with the draw of the elusive and rare '2nd Mega Ball', where players have a second chance of a big multiplied winning!
How to play Live Megaball?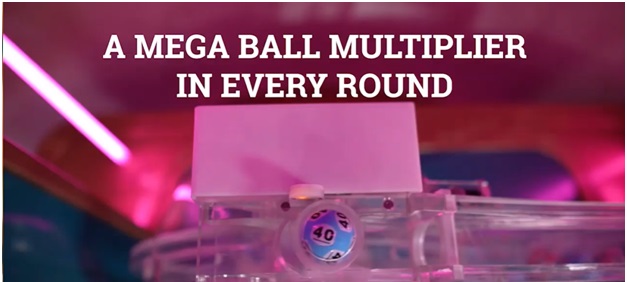 Join any Canadian friendly online casino that offer live casino to play Live Megaball.
Enter the casino with your mobile or PC or tablet and make a deposit .
Now visit the live casino section and click on Live Mega ball. The live dealer will welcome you. Soon a new draw started. The ball machine will start spinning the 51 balls in the background.
You set the value of your cards to $1 a piece and buy 10. For a $10 wager, Now you will have 10 chances to win. Note that it's possible to buy up to 200 cards per game if you wish.
The draw will then began. Suppose the machine offered up 20 balls in quick succession. They were marked off on your cards automatically, and you didn't have to do anything at all.
You will see the cards move around during the draw. The cards with the best chance of winning move towards the top in your user interface.
Just before the machine offer up the last ball, the studio light will changed, and a whole new, exciting atmosphere will be generated. There will be a strong sense that something epic was about to happen.
This is when the multiplier kicks in. A random number generator creates a multiplier of between 5x and 100x. This applies to any line wins, and you can win a top prize of 1,000,000x with the maximum multiplier in play. On rare occasions, a second Mega Ball will be drawn.
Your payout size will depend on how many cards you buy, the value of those cards, and what size the Mega Ball multiplier is. The Multiplier can boost wins by up to 100x.
Like most Evolution live games, this one has plenty of interactive features and extras that make it stand out and improve the user experience. Like the Interactive Cards, the cards shift around as new numbers are marked off. This makes it incredibly easy to keep track of your best cards. You'll also see the number you need to win directly above your digital game cards. You'll also see exactly how much you could win if you match them. Also Evolution Gaming has gone the extra mile to make this game entertaining. As well as a lively game host, there are lighting, sound, and lots of other studio effects.
The live host is either a beautiful lady or a gentleman. You can chat with them by typing messages but they are busy hosting the game and entertaining you and the other players.
Where to play Live Megaball?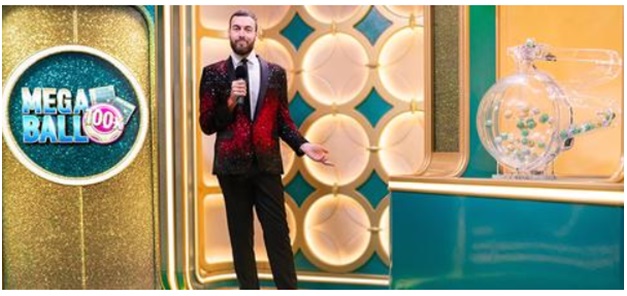 Live Mega ball is currently available at Canadian online friendly Live casinos like Leo Vegas Casino. At these Canadian friendly live casinos you will find a full suite of live games from Evolution Gaming. Once you've played Mega Ball, try Lightning Roulette, Speed Baccarat, or Super Sic Bo.
Also these online casinos offer large section video slots and table games. These legit online casinos offer fast payouts with zero fees in most cases. You can pay and get paid by Visa, Instadebit, Neteller, PayPal, and other payment methods. Same day payouts are possible for verified accounts. Also a rewards club that ensures every card you buy, and every other bet you make, will get you something extra in return. Loyalty is rewarded at these online casinos for such players. Remember to grab bonus offers too at live casino when playing live games.