What are Live Dealer Blackjack Side Bets?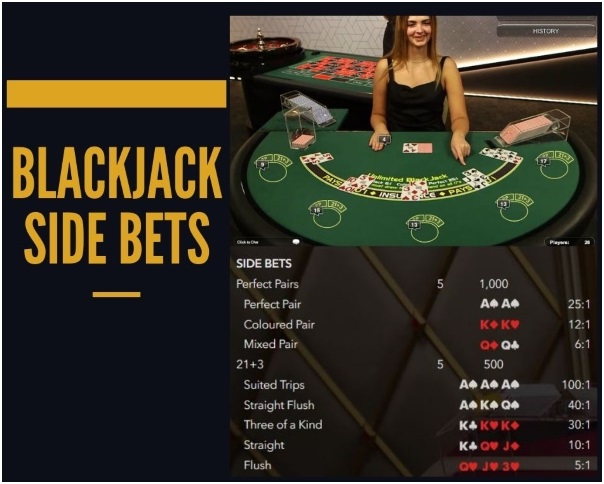 After poker blackjack and roulette are the widely played live tables at live casinos. Blackjack is popular both at live casinos and online casinos because of the simplicity of its rules and the fact that players can lower the house edge to 0.50%. But practically many punters know that winning with a natural can earn you a 3:2 payout, which is the biggest prize you can obtain when playing the main bet only. That's why some players who are pro or know the game well and are looking for higher payouts may skip this great card game.
To attract such a group of players and add more excitement to the gameplay, many live casino providers have included side bets in their Blackjack games.
Live Blackjack Side Bets
At the live game of Blackjack, you start with placing a main bet or Ante. With this bet, you predict that you will create a hand that is closer to 21 than the dealers without exceeding this number. While this bet pays 1:1 or 3:2, depending on the outcome of a round, side bets pay bigger prizes, but also involve more risk. These bets are optional meaning that it's up the player whether they will go for them or don't. Let's see which optional side bets are the most common at Blackjack tables hosted by real-life dealers.
Perfect Pairs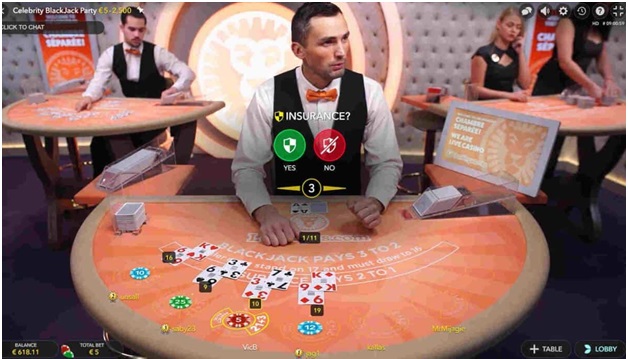 This side bet can be played at most Live Blackjack tables. When playing it, the player bets that their two cards will create a pair. It can be placed at the same time as the main bet and pays based on the initial two cards dealt to the player. There are different options when it comes to possible outcomes. Cards can be matched based on suits, colors or ranks, and each of these options awards different payouts and has a different house edge.
To play the Perfect Pairs bet, you need to place your wager on this betting option on the table. If you get a mixed pair, you will win 6:1 on it. A colored pair pays 12:1 whereas a so-called perfect pair consisting of two cards of the same suit and ranking earns you 25:1. The Perfect Pair bet has a house edge of 4.1%. It is offered by most Live Blackjack tables including Evolution Live Platinum VIP Blackjack and NetEnt Live Perfect Blackjack.
21+3 Side Bets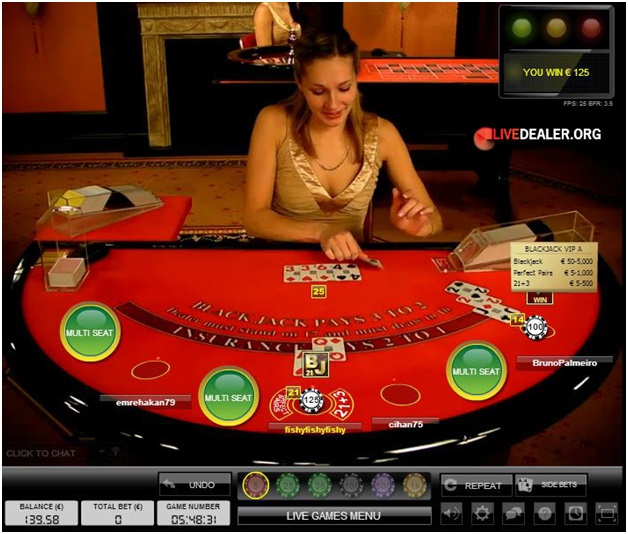 Another standard option at live dealer Blackjack tables is also based on the initial two cards the player receives with the addition of the dealer's face-up card. The 21+3 side bet wins when these three cards form a poker hand including a three-of-a-kind, flush, straight or straight flush. However, the biggest win is paid when you have so-called suited trips, which means that you have created a hand consisting of three suited cards of a kind (for instance, three Aces of hearts).
Here, the payout depends on the combination of cards. The smallest prize is awarded when you receive a flush, which means three cards of the same suit, and it is worth 5:1. A straight hand containing three cards in numerical sequence but of a different suit earns you 10:1. A three of a kind hand consisting of three cards of the same value and different suits pays 30:1, while a straight flush wins you 40:1.
This hand must contain three cards of the same suit in numerical order. A suited trips pays out 100:1. The house edge depends on the number of decks in play and payouts, which may vary, but in most cases, it sits at 3.24%. The 21+3 side bet can be played at Ezugi Live Blackjack Bet Behind and Pragmatic Play Live Blackjack tables.
Not so popular Live Blackjack Side Bets
The two most common side bets that are not regular at live tables are:
Hot 3 & Bust It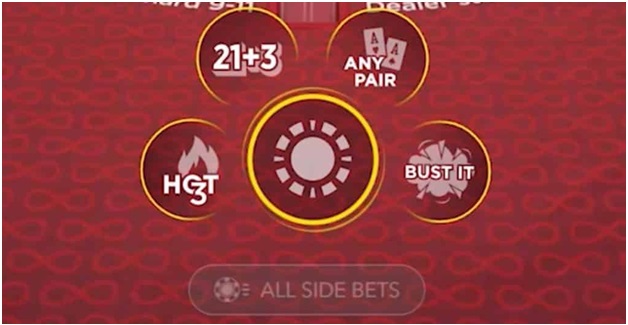 With their Live Infinite Blackjack, Evolution Gaming has introduced a few novelties including a few new side bets. The Hot 3 side bet pays out on different card combinations worth 19, 20 and 21. It is based on the player's first two cards and the dealer's upcard. A total of 19 pays 1:1, 20 earns you 2:1 while 21 pays depending on the cards included. An unsuited 21 pays 4:1, a suited 21 wins 20:1 while three 7s grant 100:1.
As for Bust It, this side bet pays when the dealer busts. It pays based on how many cards the dealer busts with, so busting with 3 or more cards in their hand pays from 1:1 up to 250:1. The Hot 3 side bet has a 5.4% house edge while the Bust It bet comes with a house margin of 6.18%.
Honey Bonus & Lucky 7s

Honey Bonus resembles the 21+3 side bet as it pays when the player's first two cards and the dealer's face-up card create a 3-card Poker hand. Besides, it earns you a prize when the first two player's cards form a Blackjack of the same suit. A flush pays 5:1, a straight pays 10:1 while a 3 of a kind grant 20:1. As for a suited Blackjack, it pays 3:1. The house edge for Honey Bonus sits at 13.51%.
When you play the Lucky 7 bet, your first card must be a 7 to get paid. In this case, the side bet pays 3:1. If the first 7 is followed by another 7 of a different or the same suit, you get paid 25:1 or 50:1 respectively. Getting three unsuited 7s, based on your two initial cards and the dealer's upcard, grants a payout of 100:1 while three suited 7s earn you the top prize of 500:1. Be cautious with the Lucky 7s side bet as it has an abysmal house edge of 49.88%.
Another not so popular side bet in Blackjack is available at a Live HD Blackjack table powered by Visionary iGaming. Here you have a side wager that functions like the 21+3 bet to a certain extent. It allows players to bet that their two initial cards and the dealer's face-up card create rummy. You need either three cards of the same rank, three cards of the same suit or a three-card straight regardless of the suit to win on this bet. In all cases, you will win the same payout standing at 9:1.
As there are a variety of side bets available at Live Blackjack tables, they pay more than the main wager, yet their house edge is much higher, which means that they are more risky to play. So if you are pro player of Blackjack or high roller then these side bets can be for you. But if you are a low stake player or a newbie in Blackjack games then don't take such risks, and if you do then keep an eye on your bankroll. You don't want to lose money which you can invest in main bets that have better odds, at least when you play according to the optimal strategy.
Visit the live online casino now to play Live Blackjack with real CAD.