Is Sic Bo Online Rigged – Live Betting Strategy
Sic Bo is a game that can be found in many online casinos. It is a dice game that was first played in ancient China. Three dice are used and there is a table that includes a myriad of betting options. There is a fair amount of skill that can be used when deciding how to place the bets and many players have strategies that they believe will help them win when they play. Here you will get to know – Is Sic Bo Online Rigged?
The Sic Bo enthusiasts often wonder about two things. They want to know of the online casino Sic Bo Games are rigged and if they are not hat is the best strategy to use when playing the game at the online casinos.
Are the Games Rigged?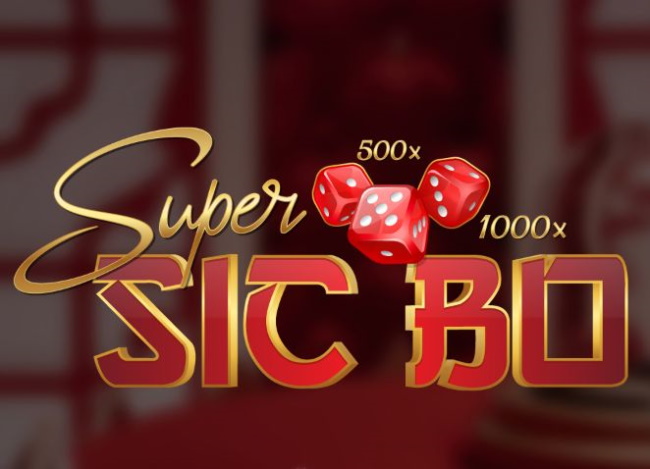 One of the biggest problems with Sic Bo at the online casinos is the many variations of the game that can be found. The odds that are paid for the different bets and the layout of the table will differ from one online casino or live casino to the next. That may make some people believe that an online casino is rigging the game, but it is probably not the case. They are just trying to create a game that people want to come back to every time.
While changing the odds or the layout of the table may not be rigging the game, there are other ways that some casino may try to cheat the players that choose to enter their casino. Some casinos do not operate legitimately. It does not matter if the player wants to play Sic Bo or some other game. There are some online casinos that are just looking to steal whatever they can, however they can from their customers. Preventing this from happening and avoiding games that are not fair requires a few simple steps.
Things to consider
1.Look for a Seal of Approval – Third parties such as eCogra offer a seal that is given to online casinos that meet the standards set for fair, safe and secure play. These casinos are not very likely to run a rigged Sic Bo game.
2. Check the reviews – An online casino that is operating a rigged game will not be able to keep that information private. Check the internet for independent reviews before entering any online casino.
3. Know the rules – Take the time to learn the rules of the casino that you want to play in. It is also a good idea to play the game for free before risking any money to see how it works at the casino of choice. This is often an option that casinos offer.
How to Play Sic Bo Online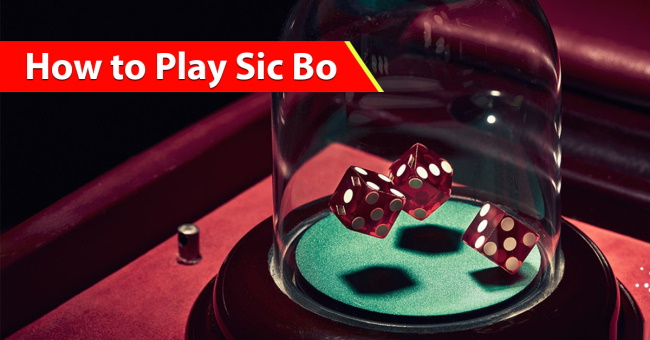 The games of chance are easy to learn most of time. But if you take a look at Sic Bo table for the first time in your life, you will feel lost.
If you think Craps and Roulette table layout was complicated, you should look at this beauty. It could be devastating initially but it's not that difficult to learn the Sic Bo rules. And it's even easier when you play online. The primary goal of this game is similar to that of other casino games. It involves betting on specific dice outcomes.
The gameplay goes like this:
you place your bets by putting chips on areas depicting outcomes you want to bet on
the dealer shakes three dice closed in a tiny chest (or the game software "rolls" the dice and shows their random outcomes)
you win for every number or sum you have predicted and lose if your predictions were wrong
Sic Bo Betting Options
As you can guess, the betting options are the critical and fun element of the game. And you can see from the Sic Bo table, there are plenty of those.
1.Small and Big Bets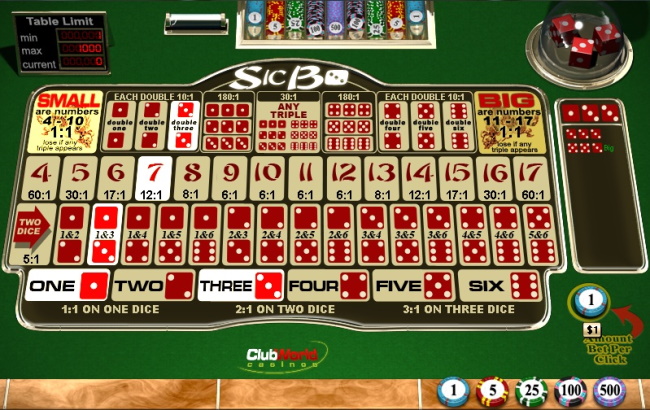 The most basic ones you need to know are the Small and the Big bets.
The small bet is when you bet on any dice sum between (and including) 4 and 10.
The Big bet is when the sum is between (and including) 11 and 17. They usually pay 1 to 1 and have the smallest house edge. Thus, these are the best odds you can have in a Sic Bo game.
Here the sums of 3 and 18 are missing. That's because when you bet small or big, any triple sum (three dice with same numbers, e.g. 1-1-1, 6-6-6) makes you lose.
Thus, these bets are not exactly 50/50 but have a probability of 48.61 percent.
2. Other Sums Bets
You can always choose one specific sum and bet on it. It can be anything between (and including) 4 and 17. But different sums have a different amount of winning probabilities.
3. Single Dice Bet
If you make Single Dice Bet, you predict that a specific number will appear on one, two, or all three dice.
You can choose any single number – from 1 to 6. If it appears on one dice, the payout is 1 to 1. If it appears on two dice – 2 to 1, on three – 3 to
4. Double and Triple Bets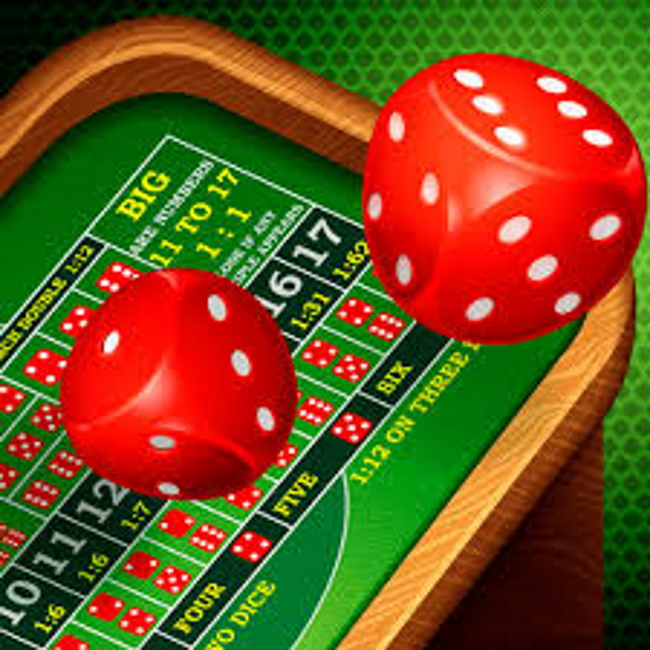 You need to make Double Bet when you think two of the dice will come up having the same number. This bet pays 10 to 1 but you have only 7.4 percent chance to predict it right.
Like the double, there are triple bets, also. You can bet that all three dice will have the same numbers. And if you are right, it pays 30 to 1. You can also bet on a specific set of triples — but your odds are worse here.
5. Two Dice Combination Bets
If you look at Sic Bo table layout, you'll see 15 domino-like areas for different two dice combinations, e.g. 1-2, 2-3, 3-5, etc.
That's another thing you can bet on. Sometimes it's called Domino bet, and often Two Dice Combination bet.
It predicts the outcomes of two dice at once rather than all three or their sum. This bet pays 5 to 1.
Sic Bo Strategies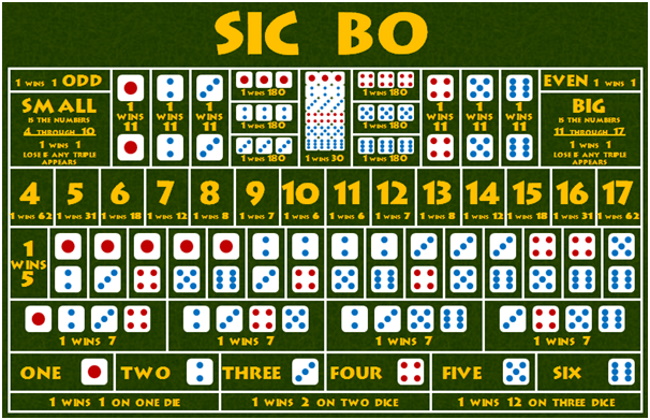 There are many different strategies that can be employed at Sic Bo. Some people will focus on strategies that involve where to place the best. Making bets on small or big will give a winning percentage of about 48%. The problem with trying to figure out what bets to place is the house will always have the edge and the house will win more often than they lose.
A better strategy involves the amount to bet. Systems that use progressive bets and that tell a person when to return to the original bet can be used in Sic Bo. Some of these strategies include:
Martingale system
Labouchere
1-3-2-6
It is important to make sure you practice any strategy and make sure that you understand it completely if you want it to work. Hopefully by now, you would have gotten the answer to the question – Is Sic Bo Online Rigged?