What is Augmented Reality 360 Roulette from Extreme Live Gaming?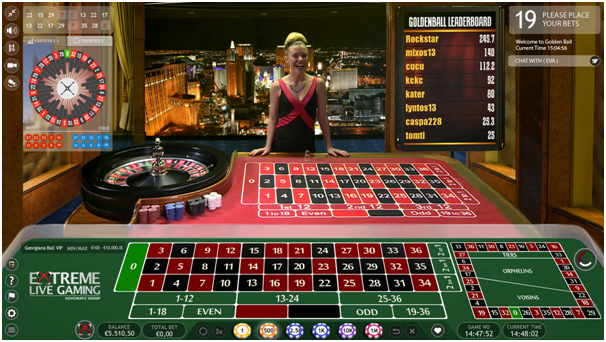 Extreme Live Gaming have presented their Roulette 360 augmented reality product. Virtual reality meets live dealer tables and will be playable using VR headsets as well as on PC and cell phones.
This live casino game called Roulette 360 is the second augmented reality live gaming product released this year; the first being NetEnt's Live Beyond Live. But Roulette 360 is the first to come with VR Goggle capability.
About the game
360 Roulette is an augmented reality HTML5 product available for both desktop and mobile. Extreme 360 Roulette is one of the most exciting developments giving players a virtual multi-gaming experience like no other, allowing players to place bets on multiple tables.
Some of the features include:
Standard European Roulette
Fully immersive 360 environments available on desktop, mobile and VR headsets
Ability to play multiple games whilst playing Roulette on the desktop version
Fully Customisable environment ideal for dedicated branding
Fully interactive environment
Available in all languages
Available in all currencies
Fully customisable table limits
Extreme Live Gaming CEO Darwyn Palenzuela presented 360 Roulette at ICE Totally Gaming in March 2018
How to play Augmented Reality Roulette
Augmented reality is a type of technology that many gaming providers continue to experiment with. Thanks to the combination of RFID chips, HD web streams and specially designed online interfaces, you can now play European roulette, American Roulette, French Roulette and even multi-wheel roulette in a setting that's almost as good as the real thing. Because the croupiers can communicate with you as you play, it creates a more realistic gaming experience than was previously possible.
Harnessing the power of the Oculus RIFT DK 2 headset and Leap Motion 3D Controller, the software was initially developed to test the potential of VR casino games and now the roulette game is a hit for AR games to play.
For example, conservative estimates suggest that an average live roulette game will see 40 spins per hour. In contrast, a single player at an online table can complete more than 100 spins per hour. The benefit of this dynamic is you don't need to wait so long between each spin, although it is RNG.
Of course, very few have the time to read through the small print attached to every casino bonus. Fortunately, online bonus aggregates are on hand to do much of the work for you. Just as online casino sites allow you to race through more bets per hour, bonus aggregates save you time by collating all the best deals online and breaking them down into easily understandable categories.
For those who simply play for fun, virtual tables will continue to be the game of choice as they allow for greater speed. VR and AR roulette is one of the latest choices if you play purely for entertainment and can be played with your cell phone or PC.
Where to play Augmented Reality 360 Roulette?
At the time of writing, there was no word yet on when or at which Canadian casino players will be able to play Roulette 360. Stay tuned here for more updates on this game and to know the best strategy to enjoy it with your PC or cell phone.