Live Blackjack with Early Payout by Visionary iGaming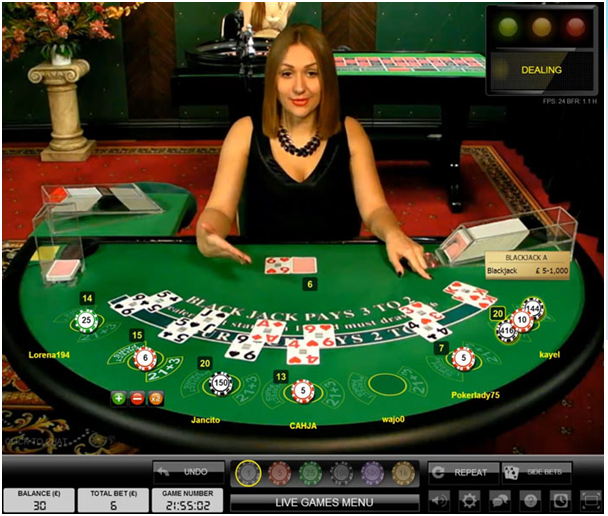 The best strategy to win the game Blackjack Early Payout.
Blackjack Early Payout is the most popular Visionary iGaming's creation due to its features. It attracts players of all kinds from all parts of the world. Visionary iGaming (ViG) was established in 2008 and is one of the leading live dealer solutions provider and their tables can be found at both online and land-based casinos across Europe, Asia, Latin America and more. At their live tables players wager more than a billion of dollars on an annual basis.
This live game was launched in 2010 and is streamed from the land-based studio in San Jose, Costa Rica. The game has been improved over the years and its 2.0 version features high-quality video stream and offers highly exciting gameplay. When played according to the optimal strategy, Live Blackjack Early Payout has a house edge standing at only 0.5%. What makes this version of Blackjack stand out from the crowd is the possibility to take an early payout at any point of the game and place side bets.
This game of highest paying Blackjack games is available online at live casinos. Its signature feature Early Payout adds more excitement to the gameplay along with side bets and the game is always played completely so that players can check if their decisions to opt out of a hand and get an Early Payout were right.
The live blackjack early payout game play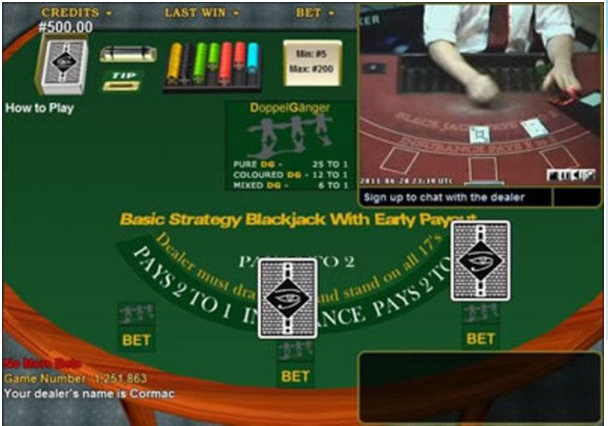 This  variation of blackjack is called Live Blackjack with Early Payout V2.0 and is based on the basic strategy odds where the blackjack player has the option to receive a payout after each deal for the theoretical payout based on the widely known basic strategy odds. This means that the player has the option to play the best theoretical hand thereby enjoying a 99.4% payout.
Early Payout is an opportunity to payout on your hand based on the cards dealt to you and the croupier's "up" hand. Meaning, you will not follow through with the hand dealt. The casino software will automatically calculate how much your payout will be based on the average estimated outcome of your hand versus the dealer's "up" hand. If you choose to payout, then your hand ends there and we will credit the payout to your gaming account. Note that all player hands will be dealt to conclusion, even though you have chosen to payout.
How to play Live Blackjack Early Payout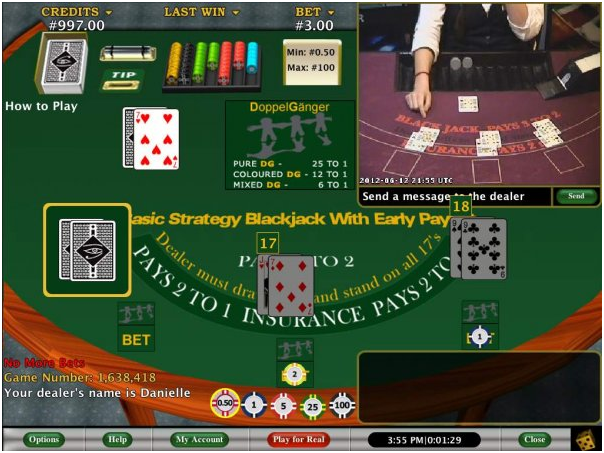 The game starts like normal with the dealers giving two cards to each seat, and then two to themselves. The difference, though, is that each seat can host multiple players. To account for the fact that not everyone will agree with how to play any given hand, the casino takes the reigns. You are offered to play according to basic strategy, which is known to be the most viable way, unless You are a math wizard and can track the deck and count cards.
Initially the game was created so that everything would be out of your control: hitting, standing, splitting, doubling down, everything. Everyone was playing basic strategy and playing it right from a statistics point of view. But with new version of this game players are now offered to choose between sound basic strategy and a play of their own choice.
Basic strategy decision will be coloured in green, thus inviting you to make the call while other decisions will be coloured in silver. You are always free to do whatever you want and other players can never affect the outcome of your play directly.
You may choose to bet on one hand or more than one hand of live Blackjack at once. This is one of the advantages of playing Blackjack with Early Payout. The live croupier will continue by giving you an initial hand of two cards (per bet). The objective is to get a higher card total than the live dealer, without going over 21. The croupier will follow the Basic Strategy rules. Your two initial cards are turned over and the live dealer has one "up" card. This is when you are given the choice to apply the Early Payout.
If you choose to follow through with your hand and not take the Early Payout, then the Basic Strategy rules are applied. There are three outcomes of the game: Win, Draw or Lose. As the game moves forward the sum of the player cards appear in a small box above the cards. The sum is continually updated. This facilitates your game, especially if you are playing more than one hand at once. All play hands will be dealt to completion based on the Basic Strategy rules; until the hand Stands or Busts (goes over 21). The live Dealer draws on 16 and stands on 17.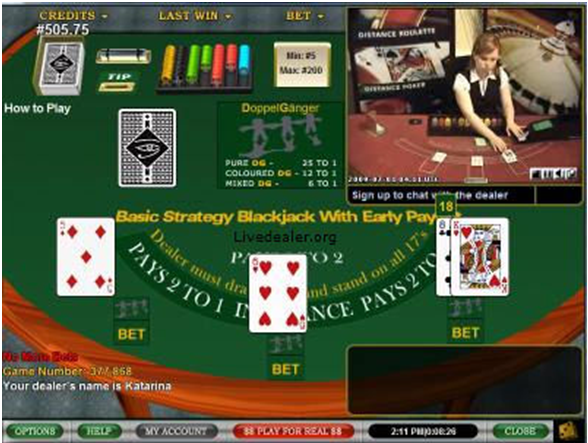 In this game players can play 3 hands every time. When bets are placed, players can Hit, Stand, Double or Split. The main goal of the game is to reach the number 21 as with other Blackjack games. The biggest attraction of the game is the Early Payout feature. Whenever your hand changes, an Early Payout will be offered to you. This offer will be highlighted with the green colour and if you accept it, you will leave the game before it ends. In practice, that means that if you have a hand of a value closer to 21 and the dealer's cards are worse than that, you can collect 50% of profit without waiting for the game to end.
Players are also allowed to place Pairs and Rummy side bets. By placing Pairs bets you bet that your hand will consist of a pair of cards whereas Rummy bets are known as 2 plus 1 as they use a combination of 3 cards, the first two player's cards and the dealer's face-up card. They pay when you have 3 cards straight, 3 cards of the same value or 3 cards of the same suit. Pairs bets pay 11:1 and Rummy bets pay 9:1.
How to take the early payouts?
The size of your early payout depends on a lot of things. For example, how much money have you already wagered on your hand? What cards do you have and what is the dealer's card that you can see? If the hand is too close to call, or if you have a clear disadvantage, the early payout will be smaller than your original wager.
The casino expects to win, so there is no way that they are going to take a loss by paying you to take the easy out. But if you are in a strong position, the early payout can actually be worth more than your starting bet. The decision is always up to you and you will have to weigh the risk vs. reward for each situation. There can be couple of scenarios where players might be interested in taking the early payout.
The first thing coming to mind is a situation where you made a wager that is causing some discomfort due to stakes involved being a bit too high. The dealer might also have a high card, such as an 8, 9 or even a ten. You have 18 – 20 and would rather lock up a sizable win than risk having losing a significant portion of your bankroll.
Some players believe that early payout takes the fun out of live online blackjack since they no longer have to make the basic decisions of the game. But you could say that using optimum strategy in general takes the guesswork out of things. In reality, early payout blackjack is probably good for everyone involved.
It works out for casinos because they can take care of lots of players at a single table, all at the same time. Early payout takes care of the biggest logistical problem facing casinos that offer live blackjack, which is the fact that they are basically opening a real casino to an infinite number of players. Taking care of everyone can quickly become unmanageable.
At the same time, early payout blackjack should be great for players. Since the house is ensuring that your hand is played according to perfect blackjack strategy, the house edge is totally minimized without any effort on your part. Also, if things are not quite going your way, you at least have the option of taking an easy out without losing everything.
Tips to win at Live Blackjack with Early Payout
The game of Blackjack is made easier for you playing online. The card game is not only following the basic strategy rules, but the gaming software will make the player hand decisions automatically. The player's decisions are the following:
Hit: Take another card.
Stand: Take no more cards.
Double: The player may "double" his bet on his first two cards, and receive an additional card face "down." A second bet equal to the initial bet is made.
Split a pair: If the first two cards are of the same value, the player can "split the pair." A second bet equal to the initial bet is made. Our software splits the cards to create two hands, placing one bet with each hand. The player proceeds to plays with two separate hands.
If the live dealer's "up" card is an ace, then the player is presented the option of taking Insurance before the dealer checks their "down" card or "hole" card. This option is a side bet of up to half the player's initial bet. Insurance pays 2 to 1. The player loses the insurance if the dealer does not have blackjack, and you can still win or lose on the original bet.
Once the winners have been decided, the winning hands are paid. Blackjack pays 3 to 2. All winnings are credited immediately to your gaming account.
Live Blackjack Early Payout features dark blue tables hosted by professional and pleasant live dealers. As soon as you join the table you will be asked to choose a betting range. You can join the table whenever you want as it accepts unlimited number of players. With an impressive RTP when played according to the optimal strategy, this version of Live Blackjack will provide you with a rewarding gaming experience, while the Early Payout feature allows you to take control of the game. If you want to add more excitement to the gameplay, make side bets and you can win bigger payouts.
Where to play Live Blackjack Early Payout game
Celtic Casino is most popular when talking about this game and this online casino is powered by Visionary iGaming software. Also this game is available at Rich Casino, (deposit with Bitcoins) 5Dimes casino, (deposit with Bitcoins) Bet online casino (deposit with Bitcoins) and few others. Remember the live casinos offer great bonuses when you join them for this game which can increase your bankroll to some extent.