Live Casino Hold'em best strategy to play at Live casinos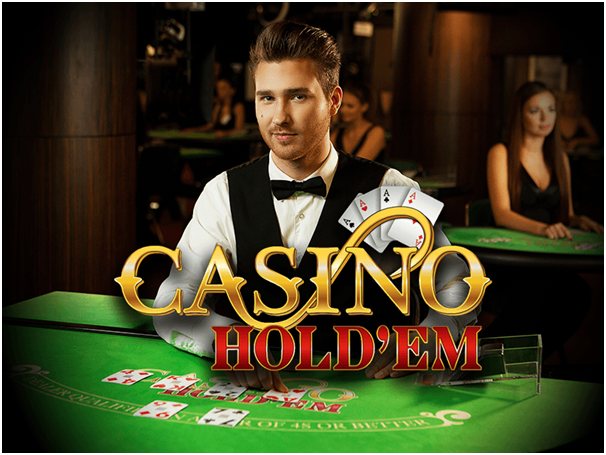 Casino Holdem is one of the most popular poker variations played at online and land casinos as well as at Live Casinos with the live dealer version. In normal Hold'em games the seated players compete against each other but here at Live Hold'em, action is against the dealer, who represents the house. You have to beat the dealer's hand, allowing multiple players at the table to win in any given round.
In this game the payouts can grow to be as high as 100 to 1 depending on the winning combination of cards you have at the showdown. At live casino the live dealers or you can call them the Hold'em dealers handle all of the action, with cards dealt from a single 52-card deck. You can chat with the dealer and interact with other players creating the feel of a land based real casino environment throughout the poker hand or throughout the session
How to play Live Casino Holdem
As you play the other types of Hold'em, same way you must try to get the best possible five-card hand to beat the dealer in Live casino Hold'em. Players are dealt two cards directly to them, and then five community cards are dealt face up on the table that all active players in the hand may use. For a better look at the action, choose between 3D or Classic view to customize your viewing experience however you like at your live casino game show.
As said above it is played with a standard deck of 52 cards and the rules are easy enough to learn but you need to be familiar with the standard five card poker hand rankings.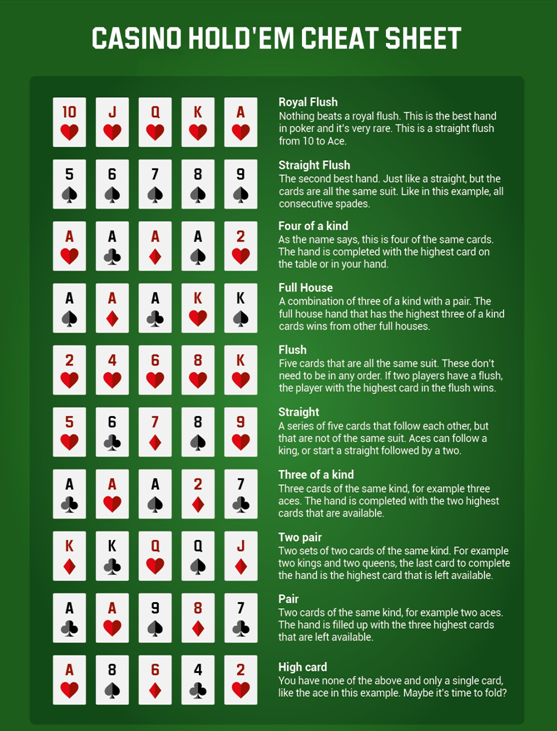 At the start of the game you place your chips on the 'ante' section of the table. This is similar to a blind in online poker and it needs to be paid prior to the cards being dealt. Once you have paid your ante, you and the dealer will be dealt two cards each. You can see both of your cards but not the dealer's. A further three community cards will then be dealt to the table.
If you have made an optional side bet, the result of that will be determined at this point. You will win if you can make a pair of aces or better using two cards and the three community cards.
Once the side bet has been settled you have to make your decision. You can either fold your hand and lose your ante or keep on playing. To keep on playing you need to make a call bet which is double the stake of your original ante. If you do decide to make the call bet, you will receive a further two community cards at the table.
It is at this point that you have to create the best five card poker hand available or let the online system automatically determine this for you. Your hand will then be compared to the dealer's. If the dealer has a better hand, you will lose your ante as well as your call bet.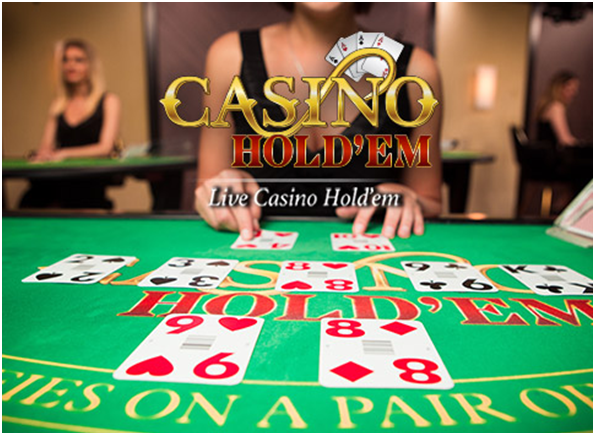 To play Casino hold'em you require to make CA$ 0.1 – CA$1000 bet. You will be notified on screen if you attempt to place a bet that exceeds the limit for that type of bet. If you place a bet that is less than the minimum limit, your bet will be rejected when betting time has expired. If you place several bets and only some of them are less than the minimum limit, only the bets that do not meet minimum requirements will be rejected.
Also to participate in the game, you must have sufficient funds to cover your bets. You can see your current balance on your screen.
The traffic lights  tell you the current status in the game round by informing you of when you can bet as green light occurs when the betting time is nearly over Yellow light, and red light when the betting time has expired.
The best strategy to play Live Casino Hold'em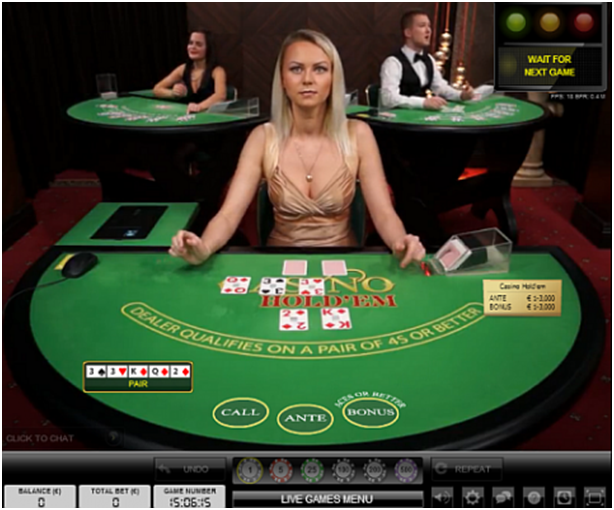 To get through this popular table game  you need to make the right decision about whether to play after the first set of cards have been dealt or whether to fold. Although this sounds simple enough, there are a number of factors that you need to take into consideration. At this point you need to consider the strength of your hands as well as how your hand would improve once the remaining two cards have been dealt. Since you are also competing against the dealer, you need to keep in mind how strong their hand might be and how it also might improve.
So keep in mind when playing Live Casino Hold'em that you always call with a pair or better, call when you have an ace or a king, Call when you have a queen or jack unless the community cards are all of the same suit and you don't have a card of that suit, Call with a flush or straight draw provided that you only require one card to complete a flush or a straight., Call with two over cards, Fold if you have no cards that match the board and no cards over 10 unless you have a straight draw or flush draw and Fold if you hold unpaired low cards that don't match the board and don't provide you with a flush or straight draw.
Rules of the game
To play the game you place a bet on the Ante bet (initial bet). To add to the excitement, you can also place a Bonus bet that pays out if a pair of Aces or higher is dealt in the first five cards.
The dealer deals out two cards face up to you and two cards face down to the dealer. Three community cards are dealt face up in the middle of the table. These three community cards are common for you and the dealer for making up the hand.
You must decide whether to call or fold. Choose Call to continue the round by placing a Call bet equal to double your Ante. Choose Fold to end the round, thereby forfeiting your Ante and Bonus bet. Note that you must choose Call to receive a payout on your Bonus bet.
After you have made your decision, the dealer will deal two more community cards (called "Turn" and "River"). The dealer will also reveal his/her two initial cards.
To find a winner, the best paying hands are formed and compared for you and for the dealer, using five out of seven available cards.
The bonus bet and the winning hands in Casino Hold'em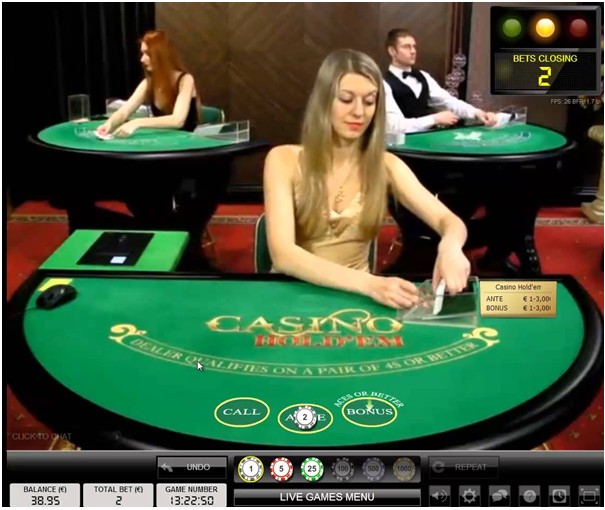 The Bonus bet is an optional bet and cannot be placed alone. After a chip is placed on the Ante bet spot a flashing arrow will show you that the Bonus bet spot is activated. Place your Bonus bet in the same way as you place the Ante bet.
The Bonus bet is evaluated on the first hand of five cards only. If you have a Pair of Aces or a better combination and you decided to Call, you will win the Bonus bet and will be paid according to Bonus pay table.
In the winning hands the individual cards are ranked in descending order: Ace (high or low), King, Queen, Jack, 10, 9, 8, 7, 6, 5, 4, 3 and 2.  An Ace can be the highest value card in a Straight of A, K, Q, J, 10 or the lowest value card in a Straight of 5, 4, 3, 2, A.  Possible hands from the highest payouts to the lowest.
The dealer must have a pair of 4s or higher to qualify. You win if the dealer doesn't qualify. The Ante bet is paid out according to the payout table, but the Call bet is returned to you. You win if the dealer's hand qualifies and dealer's hand is lower than yours. The Ante bet is paid out according to the payout table and the Call bet pays 1:1.  You lose if the dealer's hand qualifies and dealer's hand is higher than yours. You lose both your Ante bet and your Call bet.  It is a Push when you and the dealer have exactly the same hand. A Push means nobody wins or loses. You get back your Ante bet and Call bet. If you and the dealer have hands of the same type, the one that includes the card of highest value wins (e.g. three Kings beats three Queens; a flush of Q, J, 10, 9, 8 beats a flush of 10, 9, 8, 7, 6).  When you and the dealer tie, the next highest card that is not part of the paying hand, known as the 'Kicker', determines the winner.
Where to play Live Casino Holdem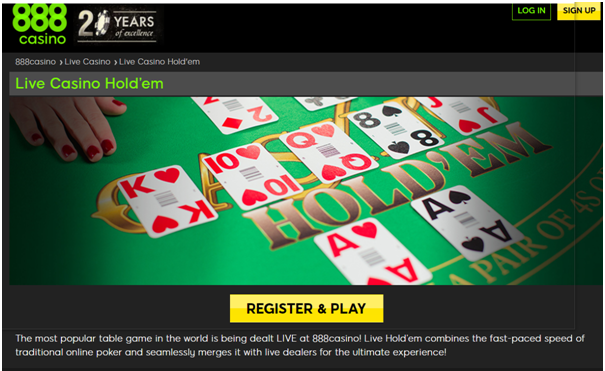 You can play live casino holde'm at many of the Canadian friendly online casinos like 888 live, Royal Vegas, Spin Palace, All Slots and many other Live Casinos of your choice. Remember that live casinos have their own special bonuses and offers which you can avail. Also all these games require real money to play and you need to register yourself at these casinos, open real money casino account and then start to play. In case of any doubt you can always contact the live casino customer support team which is available 24/7 in all of the reputed live casinos.