Understand the Bet Behind feature in Live Dealer Blackjack

Live dealer Blackjack is the most popular live casino game to be played at Live casinos. The object of blackjack is simple. You aim to try to beat the dealer by achieving a total closer to 21, without going over. There may be various alterations in the rules and pay tables, but this common core concept remains the same no matter where you play.
Thus there's very little difference between playing blackjack in a land-based casino, an online casino, or a live dealer casino. They all use random shuffling techniques, either by a real person, an automatic shuffling machine, or the computerized algorithm of a random number generator (RNG). Either way, the probabilities do not change and the house edge also remains steady.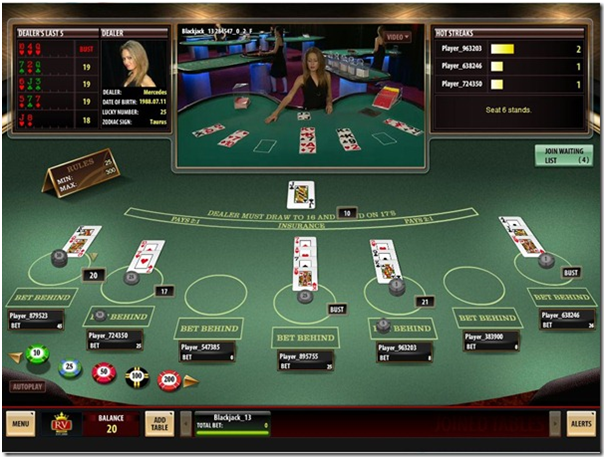 Live casino Blackjack is most liked by players of all kinds because it offers a similar land-based casino experience and the same conveniences as RNG-based online blackjack. You can play Live Dealer Blackjack with your PC cell phone or tablet that is your choice. You get the same bonuses and offers no matter which gaming platform you choose to play.
Though most of the Blackjack players argue that there is no difference between land-based and live dealer blackjack there is one small difference that can have an enormous impact on how you play the game. It's a simple feature known as Bet Behind, and it guarantees a seat is always available for any player who wants to get in on the action.
The Bet Behind Feature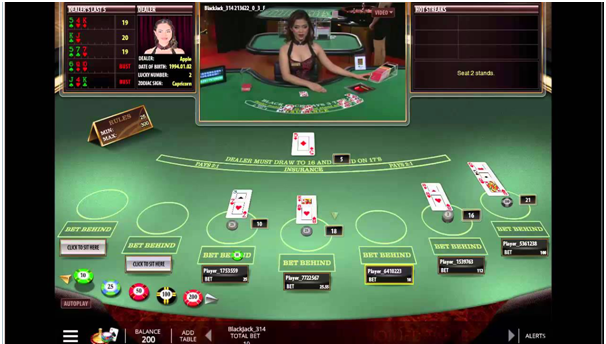 The bet behind feature gives players the ultimate advantage at live dealer blackjack tables. Let us understand by an example. Suppose you enter a land-based casino to play a slot machine. You know that playing at a land-based casino is much different than playing at an online casino. So when you walk into a land-based casino, if you're favourite slot is occupied, there's nothing you can do but choose another game, or wait until the offending player leaves. Online slot machines never run out of space. Your seat is always open, at any game, any time you want to play it.
The same concept was applied when live casino operators introduced Bet Behind at live online casinos. This feature ensures that no player is ever turned away, even at peak hours when all of the live table's virtual seats are occupied.
That shows that a Bet Behind player will not be dealt a hand. They are instead given the option of betting on the hand of another seated player. This means you can place a wager on any active hand at that table as if it were your own. Doing so is a bit of a risk, however, since it's up to the actual owner of that hand to make decisions. But betting behind a player who obviously knows what their doing is a great way to enjoy the game, at least until another seat becomes available.
Take advantage of the Bet Behind the Feature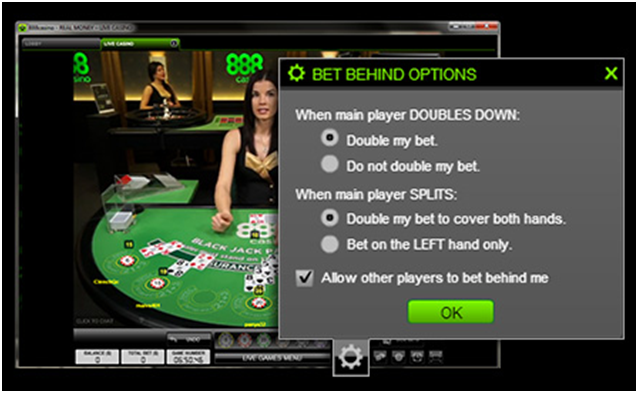 Live blackjack tables allow an unlimited number of players to watch those who are seated, and bet behind them if they wish. That means you can spend as long as you want observing each player's gameplay before deciding who, if anyone, is worthy of betting behind.
Should you find that more than one player is invoking perfect strategy, you can bet behind as many of them as you'd like. Maybe a player is on a hot streak, you can bet behind them to maximize profit. Once the player runs cold, you can simply stop.
Betting behind offers the ultimate advantage to players as you don't have to place a bet on every hand to keep your seat. You can adjust your bets however you like. You can bet as many or few hands as you want, and follow the hot and cold streaks of strategic players
You even have extra options for betting behind. Most software brands will allow you to automatically adjust your bets, depending on the hand owner's decision. Common settings will include the option to instantly double your bet behind when the player doubles down, or double your bet to wager on both hands in the case of a split.
If you're watching other players long enough to trust their decisions, the Bet Behind feature can be a perfect way to maximize the profit potential of live dealer blackjack, without ever playing a hand of your
How to use Bet Behind Feature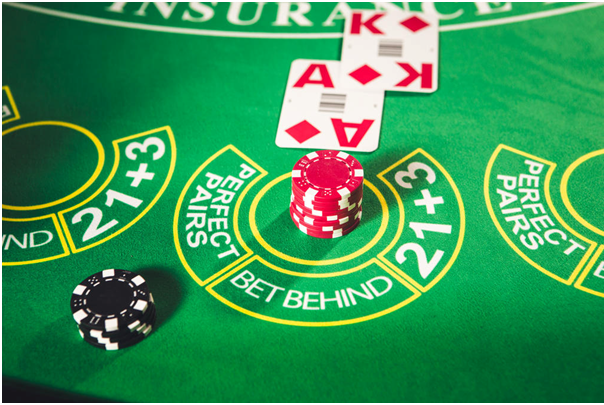 Once you are in a Live Casino blackjack room you will see the Hot Streak table at the top right of your screen. This table allows you to see which players sitting at the table have had consecutive wins, and how many consecutive wins they have had. Once you have used the Hot Streak table to identify which player you want to bet on, all you need to do is place your chips on that player's ''Bet Behind box'. Each player with a seat at the table will have a bet box located just behind their bet box.
At a standard live casino blackjack table, players have a 25 to 300 betting limit. At these tables, players also have the option to use the Bet Behind feature at a slightly different betting range. The Bet Behind feature allows for players to place bets from 10 to 200.
You can bet behind while you wait for one of the seven main seats at the table – never wait to play
Players in the main seats can also bet behind any other seat(s)
Lower stakes for Bet Behind means new players can easily experience the world of Live Blackjack
When you join a table with no free seats and the Bet Behind bet is available, a pop-up message will be shown saying: 'All seats are occupied, but you can place a bet behind any player'.
For waiting players who choose to bet behind, the option to place a main bet ('Sit Here') will still be available when one of the main seven seats becomes free.
The number of game rounds a player has won is displayed on the medal. One or two ribbons and then one to three stars around the medal provide further at-a-glance indicators of just how 'hot' a player is.
When the main player chooses to double down or split his cards, his bet is doubled.
By default the player betting behind follows the main player's decision and also doubles his bet. However, the player betting behind can adjust his Bet Behind betting strategy by going to Bet Behind Settings in the game Settings menu.
But as the famous saying goes practice makes a man perfect. Similarly, play blackjack live and see if you can use the Bet Behind feature to increase your winnings and get hold of this exciting feature. You can play Live Blackjack at Royal Vegas Casino, Platinum Play, All Slots Casino and another such live casinos.