What is Live Keno and how to play at online Live Casinos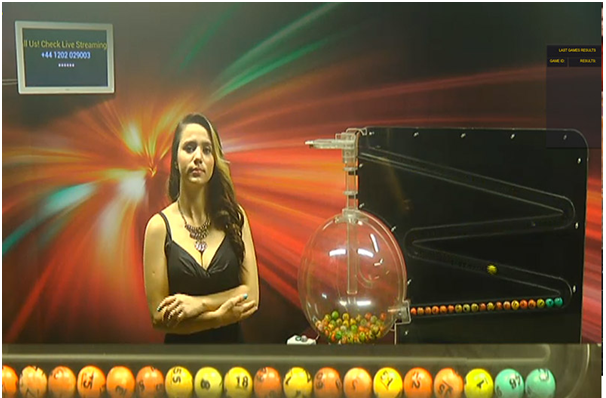 Live Keno is wonderful game that offers fun like other Keno lotto game like the OLG Daily Keno and can be played with variety of betting options. You can bet from few loonies to huge CA$ can choose different numbers of balls. Many players believe in playing patterns or in betting specific numbers, but the results of live Keno are as random as any other game and there is no way to predict what numbers will actually be called in any single game.
When you make the choice to enjoy real Keno streamed live, you will be betting on the live outcome of the game. Every few minutes, a new Keno game will begin and each will offer different results from previous games. With live Keno that is streamed, you will enjoy random numbers without any automated results, enhancing the game and adding a level of realism that was never present with online Keno games.
What is Live Keno?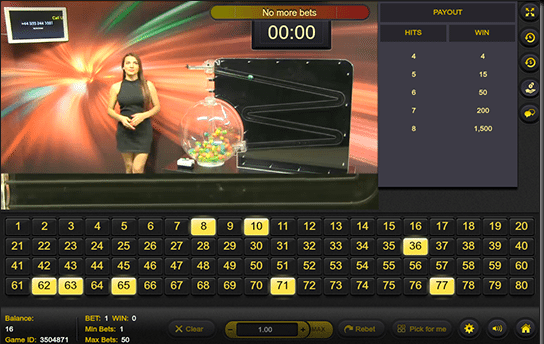 Live Keno game is available at live casinos that are Canadian friendly. At most of the online casinos Live Keno is powered by well-known software provider Ezugi. The game is actually more as live dealer lottery but sticks strictly to traditional Keno rules that include a poll of 20 to 80 balls which are being drawn randomly. The overall action happens in real time and you play Live Game with your cell phone, tablet or PC. Every few minutes new Keno game will begin and each of the games will offer different results from that previous game.
Unlike the classic keno games, there is no random number generator involved so the live dealers repeat all numbers as players watch from their comfort zone. Players are given time to choose numbers and rounds occur every three minutes.
You can play Live Keno in major live dealer casinos and the game is easily accessible via an instant play setup that runs through your browser for maximum compatibility and convenience. So you don't have to download anything and you won't experience any issues if you are playing with your iPhone or Android.
As you probably know you can play live Keno only for real money since live dealer games are more expensive to run in comparison to the traditional random number generated games and titles. So if you want to play Live Keno, your next step is to sign up to Canadian friendly online casino that offers the game, fund your account and make your first deposit and you will receive your welcome or cash bonus.
Note that to stream any live game from a live casino you need to have fast and reliable WIFI or internet to get the high video game quality.
How to play Live Keno?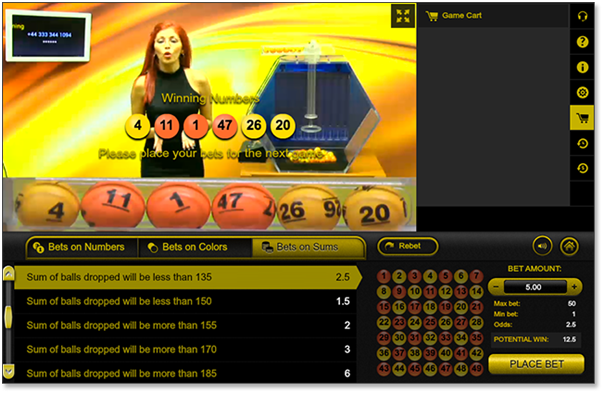 In the Live Keno the game will draw 20 balls from a collection of 80 balls and the goal is to match as many balls as possible so there will be the highest payout. Players are able to bet on just one ball or as many as eight balls. Instead of watching the results on your screen, you will, in fact, see a live dealer who will announce each ball as it is drawn during the game. The dealer also alerts players when is the right time to bet and when a betting time is closed.
Most of Live Keno games are simulcast from the various studio located in Costa Rica and other places, and you will enjoy high-quality video stream as well as dealer chat option.  As said above there is no random number generator incorporated into the game, so live dealers will repeat each number which is drawn. There is a plenty of time to choose your number between every game. You don't have to download any software and you play the game directly through the browser.
You just find a Canadian friendly live casino that offers live Keno
With PC or cell phone next register yourself at the casino and open your casino account by funding the casino with real CAD
Grab bonuses if available to play live casino games.
Select the game of Live Keno by visiting the live casino or live dealer games section to play instant game.
Once the Live Keno window has loaded, the video feed will appear, with the betting layout across the bottom along with the action bar – here you can adjust stakes, make bets, etc. There's also a display in the top right, where you can view payouts, bet history, live chat, and more.
If you enter a Live Keno room between plays, the video screen will show a timer counting down to the next round. Drawings take place every three minutes and all bets must be placed before the timer reaches zero, at which point the HD video stream will return to the casino floor for the live draw.
The unique thing about this game is that:
Live Keno doesn't use random number generator but instead make use of actual gambling devices just like in real casinos.
You are able to communicate with the dealers at any time during the game.
In addition to balanced sound levels and high video quality, the game offers an ultimate online gambling experience and the greatest part is that you don't have to leave your home to enjoy it.
Live keno bets and payouts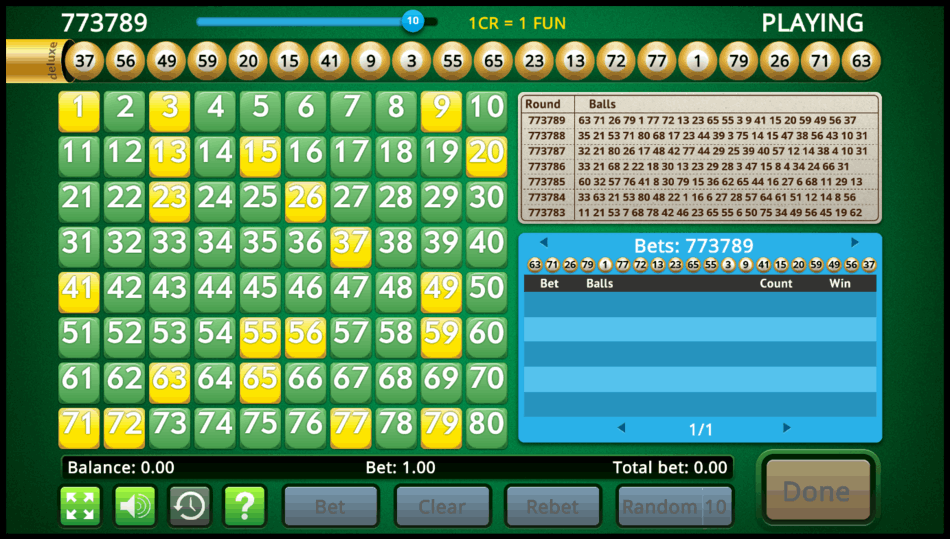 As said above Ezugi's live dealer keno game is played with 80 balls, numbered 1 to 80, of which 20 are drawn each round. You can cover up to eight numbers per drawing, with a minimum stake of $1 and a maximum bet of $50.
Payout odds are shown in the top right of the screen as you select your numbers, and will fluctuate depending on how many you decide to cover. Like if you choose to cover two balls with a $1 bet, the display shows a return of $1 for one number and $6 should both be drawn; but if you cover three balls, the odds will be $3 for two hits and $25 for three, with no return for a single number.
Obviously, you get the best return rates by covering eight balls, as follows;
Four hits – 4:1
Five hits – 15:1
Six hits – 50:1
Seven hits – 200:1
Eight hits – 1500:1
However, you must hit at least four winners in order to earn a dividend when playing this many spots.
To select your balls, simply click on the corresponding numbers on the layout, or opt for eight random numbers by clicking 'Pick For Me' – and you're done. There is no other confirmation process required, so just sit back and wait for the draw. All bets are confirmed as soon as the timer hits zero, so it helps to make sure you've got your stakes and selections in well before time.
Remember when playing Live Keno if you find any issue or anything out of the ordinary which compromises the integrity of the round will usually result in a replay, with all numbers returned to the barrel and all results for that round declared null and void. If you want clarification on such procedures, or need help with a specific issue – be it technical, gameplay-related, or otherwise  you can contact your online casino customer support via live chat or email seven days a week.