How to play Evolution Live Dealer Dragon Tiger game at online casinos?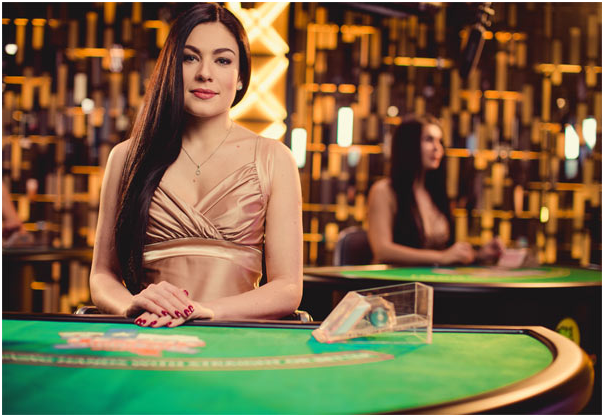 Dragon Tiger is one of the many Asian betting games that is quickly becoming popular among players everywhere in the world. This popular live casino game is liked by players because of the speed, the odds, and simplicity of the game. Different from baccarat, where the player or banker draws additional cards, Dragon Tiger resembles the game of Casino War; a single card is dealt to the Dragon Spot and then one to the Tiger Spot. No additional cards are drawn, and the player bets on the outcome of those cards instead of playing against the dealer. It was invented in Cambodia and it is very popular in Asia.
Evolution Gaming recently launched its new live dealer game for live casinos known as Dragon Tiger. Before you start to know how to play Live Dealer Dragon Tiger note that this game has been developed by Playtech, Vivo Gaming, Opus, Bodog, Ho Gaming and now Evolution Gaming. So here we will explain about this game and how to play it. The basic of the game is though same but there are a few differences to note when playing the game from other software providers.
Evolution Gaming Live Dealer Dragon Tiger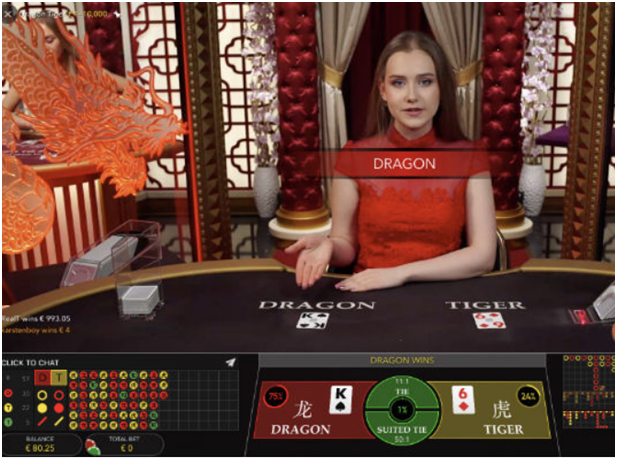 Here you find a nice looking table to be sure with Dragons and Tigers that light up in the background to indicate which position won the hand, but this table has a couple of differences of substance from other live Dragon Tiger tables.
You will find that the Tie bet pays 11:1, rather than the usual 8:1 (or 10:1 on Playtech´s Dragon Tiger table). It also offers a Suited Tie bet with a 50:1 payout.
How to play this game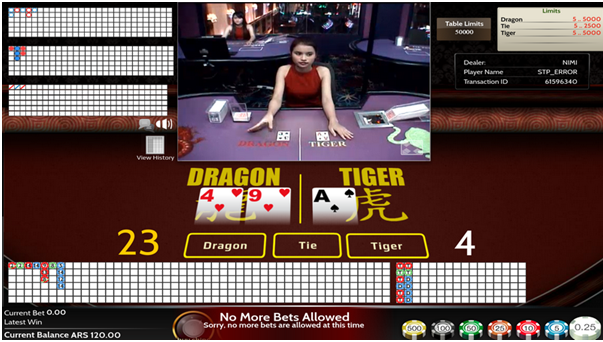 You need to find a Canadian-friendly online casino where this game is available to play at their live casinos.
Dragon Tiger is a very easy and fast-paced game. The game objective is to guess whether the Dragon or Tiger will draw the higher-value card, and therefore win. Player may also bet on whether the Dragon and Tiger cards dealt will be of the same value, and therefore a Tie.
Begin by betting Dragon, Tiger, or Tie (or Suited Tie). A single card is dealt to the Dragon and Tiger positions and the highest card wins, with cards valued in order from lowest to highest as follows: A,2,3,4,5,6,7,8,9,10, J, Q, K (i.e. Ace is low, J=11, Q=12, K=13).
Winning Dragon or Tiger bets pay even money. In the case of a Tie (same value card to Dragon and Tiger), half your Dragon or Tiger bet is returned, or if you bet Tie you win a payout of 11:1.
In the case of identical cards (value and suit) being dealt to Dragon and Tiger, you win a payout of 50:1 if you take the Suited Tie bet.
Rules of the game
Dragon Tiger aims to predict which of the hands – Dragon or Tiger – will win or if it will be a Tie.
The cards are dealt from a shoe with 8 decks (Jokers excluded)
The player places a bet on either Dragon, or Tiger, or Tie, or Suited Tie
A single card face-up is dealt by the dealer to the Dragon and the Tiger
The highest card wins and pays even money 1:1
Card value from the lowest to the highest is as follows: A,2,3,4,5,6,7,8,9,10,J,Q, K
In the case of a Tie, half your main bet (the Dragon/Tiger bet) is returned and the Tie bet pays 11:1
If cards for the Dragon and Tiger are equal both in value and suit, it is a Suited Tie, and half your main bet (the Dragon/Tiger bet) is returned and the Suited Tie bet pays 50:1
Bet and payouts of Dragon or Tiger: even money; Tie: 11 to 1 and Suited Tie: 50 to 1
Return to player in Dragon Tiger is no exception with a relatively low theoretical return to player rate for the main game (Dragon/Tiger bets) and horrendous returns for the Tie and Suited Tie bets. The main game (Dragon/Tiger bets): 96.27%; Tie bet: 89.64% and Suited Tie bet: 86.02%
The best strategy to play Dragon Tiger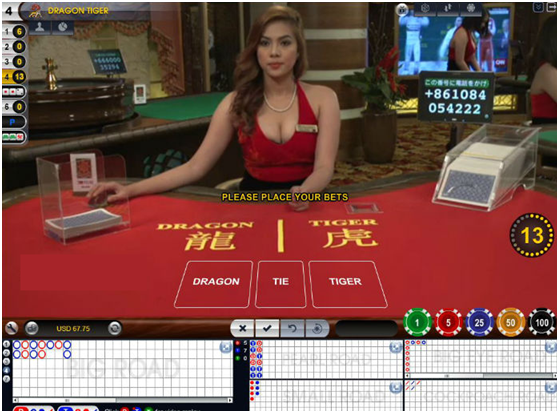 As said in the beginning the closest description of this game is that it is very similar to Casino War and Baccarat at the same time. It follows the baccarat betting system and has the basis of Casino War. It is played with only two cards, each dealt on the Tiger or Dragon spot.
There are very few strategies that can be used when playing this game in a live casino. However, some players may find that counting cards can be beneficial to determine how many low or high cards are left in the deck. This will allow players to choose their bets wisely and increase their chances of placing a winning bet. It may also be easier for players to keep track of suits since there are only four. This is beneficial when placing a suit bet, which is a side bet in the game. With this bet, one will bet on which suit will be drawn and the payout is 3:1 for a correct bet. Any player that is placing this type of bet should always keep track of suits that have been played in the game up to this point. However, always remember that the game is often played with 8 decks and will be shuffled after the fourth deck is used.
That means you should also know how to place bets. As with this game, a wager is placed on either spot, Dragon or Tiger. The dealer will then place the cards on the table face up. The highest-ranking card will win, but two rules in the game play an important role. Forts, all aces are low cards. Second, no matter where the player has placed a bet, tying hands will allow the house to take half of each wager. The live dealer casino would have no edge if it didn't take money from a tie. With over 86,000 possible outcomes for every hand, more than 6,000 result in a tie, giving the house an edge of 3.73%.
To increase the chances of winning, other bets can be placed in the game aside from the Dragon, Tiger, tie and Suit bets. There are also Big and Small bets. With these, one will wager on whether a certain card will be Big, meaning it is over 7, or Small, under seven. With this wager, the casino does have a house edge of 7.69%, so it is not always the best option.
By knowing all the available bets, players can easily get involved in a game of live dealer Dragon Tiger and enjoy the fast-paced game that requires very little knowledge or skill.