Live Prestige Roulette – How to play at Live Casinos with best strategies and bets.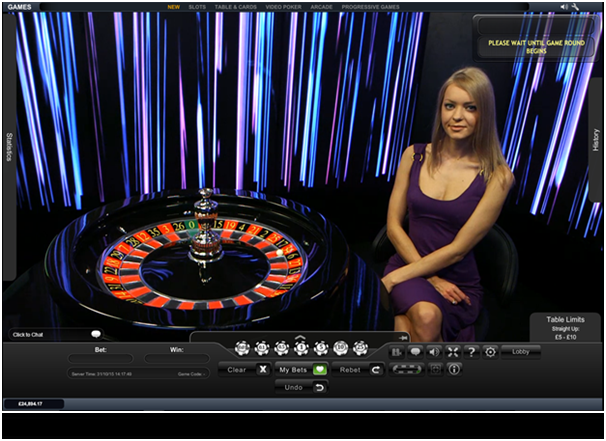 Live Prestige Roulette is a live casino game developed by Playtech which was launched in 2015. Prestige Roulette is created to draw the player even deeper into the game through its cutting-edge technology and special viewing angles from high-definition camera resolution.
In this variant of this table game, you will find a more intimate atmosphere making it all real as the cameras shoot from various angles and you can see all of them in real time, which makes you feel as of sitting at a real roulette table. Also, each game win is replayed so the players get twice as much satisfaction after winning.
Quick-fire betting rounds are another bonus that you will be more interested in as it is designed to boost your revenue. You can hide the bet table simply with one click or touch of the finger, thus getting a full-screen view.  Prestige Roulette can be accessed via any platform, which is by no means a surprise, as Playtech are famous for its omnichannel approach and can be played with a cell phone or PC alike.
How to play Prestige Roulette live casino?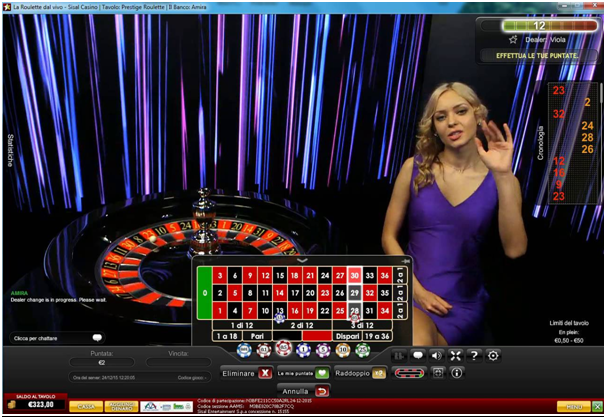 Simply choose a Playtech-powered live casino and after the formality of registration and opening of a real money deposit account go to the live casino to select this game. Prestige Roulette is the VIP of Live Roulette games online. This variation of the game is based on European Roulette which provides a gaming experience that even real land casinos cannot compare to.
As said above you will be able to enjoy the game to the fullest with HD quality and various camera angles. Playtech has also included slow-motion options that show the results of each ball drop in the most incredible HD quality.
Betting limits are basic and range from 2.00 to 1,000 on chip sizes; 1.00, 5.00, 10.00, 25.00 and 100.00. Individual betting limits will vary from this with straight-up bets offering bets from 5.00 to a maximum of 25.00. The betting table will come into view when the game is ready for you to place your bets it offers the usual bets such as corner, street and red or black. When the game starts, you can remove the betting table from your screen to focus on the wheel itself.
Live Prestige Roulette Features
Live Prestige Roulette provides many useful features for all users to take advantage of. The high-definition cameras provide an incredible overview of the game itself while giving players the option to choose different camera angles to get the best view of the table. This also includes a reply feature that shows how the ball landed on the winning number in close detail. The angle section is not required as players can choose to leave the option, resulting in angles changing by themselves to highlight all the action in each round.
The betting and options table can be hidden between rounds which will provide a better view of the game itself while the ball is in motion. The angle feature will remain available without the betting menu in place, meaning the cameras can be changed in full-screen view as well.
As soon as the round is over and a winning number has been selected, the menu will automatically reappear and provide reward values along with new betting options for the series that follows.
Playtech has included the latest software with Prestige Roulette that provides easy adjustments no matter the device played on and the house edge for Prestige Roulette is 2.70%.
The best strategy to play the game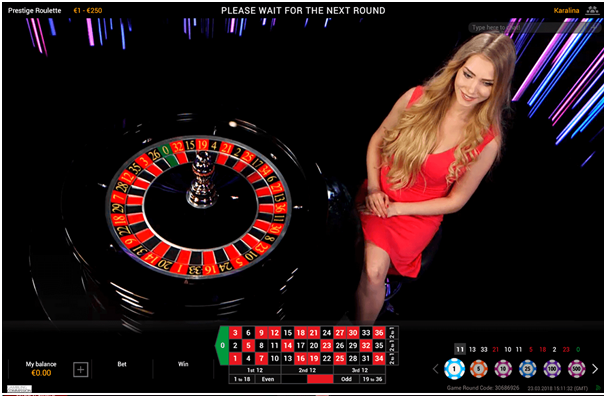 Like European roulette, this features a rule called En Prison (or La Partage), which applies to those even-money wagers. When zero is spun on the wheel, instead of losing the entire wager on an even-money, outside bet, the wager is placed in prison. On the very next spin, if the player's original choice wins, they receive their wager back. This may seem complicated, but it's quite simple.
As an example if the player has a $10 bet on black and zero (the green color) is spun. The $10 is imprisoned for one spin. If the next spin is black, the player gets their $10 back. If red or green spins, the entire bet is lost.
At some casinos, La Partage (the divide) is used instead of En Prison. With La Partage, even-money wagers are removed from play when zero is spun and half the wager is immediately returned to the player. Each of these rules results in a substantial reduction in house odds for even-money bet players to 1.35%.
Prestige  roulette  also features what are sometimes referred to as "French Bets." Each wager covers specific numbers corresponding to sections of the roulette wheel. While the numbers on the betting layout are consecutive, from 0 to 36, the numbers on the roulette wheel itself alternate from red to black and follow this pattern: 0-32-15-19-4-21-2-25-17-34-6-27-13-36-11-30-8-23-10-5-24-16-33-1-20-14-31-9-22-18-29-7-28-12-35-3-26.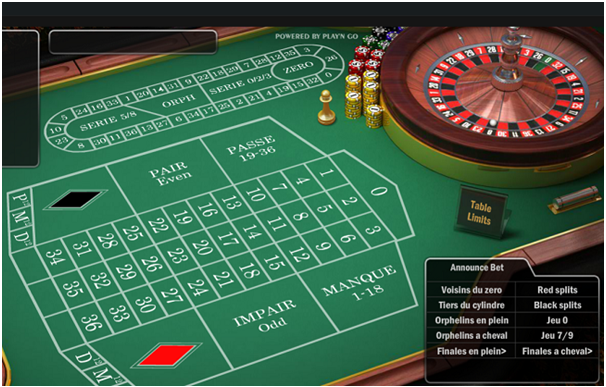 Another aspect of prestige roulette is the use of Announced bets, where a player states a wager amount and a commonly used bet section such as Voisins du zéro (neighbours of zero). This specific wager covers the 17 consecutive numbers on the wheel of 22,18,29,7,28,12,35,3,26,0,32,15,19,4,21,2,25
This wager is made in multiples of 9 chips, and they are placed on the layout by the dealer in this manner: 1 chip on splits of 4/7, 12/15, 18/21, 19/22 and 32/35; 2 chips on the trio of 0, 2, 3; and the corner bet of 25, 26, 28 and 29.
An Announced bet is one made by the player who has enough cash or chips on the layout to cover his wager. The croupier may or may not place the wager, since they are trained to know the exact payoffs for each bet. Instead, the wager may be noted beside the layout and acknowledged by the game Inspector.
Another is a Call bet one that is accepted on credit, where chips or cash are not visible. Other popular Call bets that are accepted include the following:
Jeu zéro (zero game) – 12, 35, 3, 26, 0, 32, 15
Le tiers du cylinder (Thirds of the wheel) – 27,13,36,11,30,8,23,10,5,24,16,33
Orphelins (orphans) – 17,34,6 and 1,20,14,31,9
Neighbors – 3 consecutive numbers (5 chip wager) or 5 consecutive numbers (15 chips)
Final Bets – Straight-up wager on all numbers ending in the "final" number announced
Full Completes – 40-unit wager on all possible bets on a chosen number
Of course for the croupier, with many announced bets, the game is all-consuming and requires great skill to continually handle multiple players, bets, and pay all winning wagers correctly.
You can enjoy Prestige Roulette live casino games at any Playtech-powered online casino of your choice.