9 Most Popular Roulette Systems
Roulette is one of the popular casino games and since its inception on the global gambling platform, it has been attracting more and more players. Although roulette is regarded as a game of chance, many players have devoted a lot of time and effort to developing an effective strategy for beating the roulette wheel by applying foolproof systems. Here are the 9 Popular Roulette Systems you can use to play better like a pro.
The primary goal of every roulette system is to keep the casino advantage to the minimum while allowing the player to rely predominantly on their skills rather than on luck.
May 'winning" roulette strategies have been discussed here in this blog.
Roulette Systems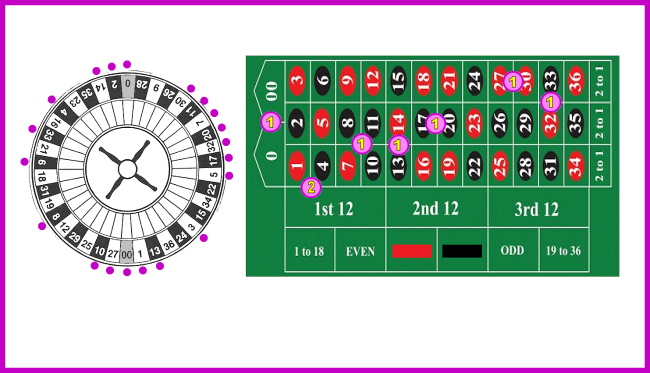 There are many roulette strategies, in general, but ideally, it can be segmented into two large groups. The first group includes strategies based on a progression that is determined once the results of the last spin are out.
As for the second group, it does not include any change of the bet. They remain the same no matter if the last spin was a winning or losing one.
The Most Popular Roulette Systems
1. Martingale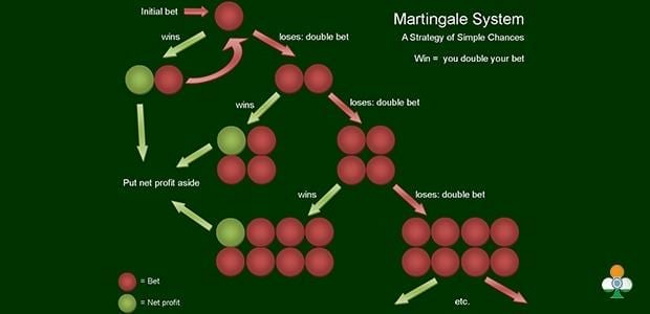 This betting system requires you to double the amount of the bet once a loss is registered. It is straightforward, which makes it a preferred roulette system by newbies. However, professional players consider the Martingale system a risky one.
It is one of the oldest systems still working. ,t was considered an appropriate system for games where the player was required to guess whether the coin is about to land on the heads or tails.
If you make a correct prediction, you may not increase your bet. In an event of a loss, you need to double the bet. Therefore, if the next guess is correct, they will take back their money and even turn a profit.
Although the mechanism makes sense, it is risky. Basically, you can lose an infinite number of times and if you are persistent enough, you finally hit a winning streak and what you have lost back. This martingale system is unsuitable if you are playing with a tight budget.
2.D'Alembert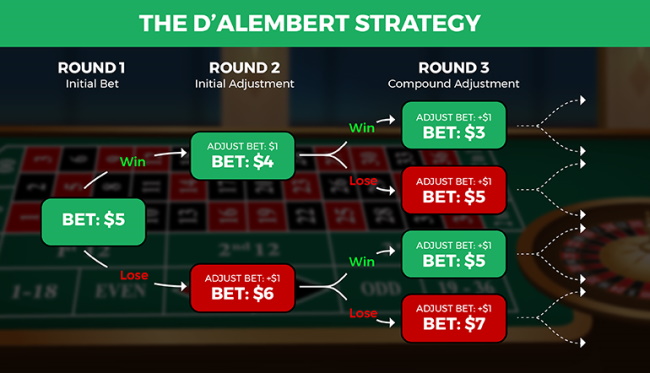 It is a roulette betting system featuring flat progression. This betting system is also termed as the Pyramid system or the Cancellation system. It was established back in the 18 century and according to it, you can gather solid winnings in a long term provided that you decrease their bet by 1 after a win and increase it by 1 after a loss.
Suppose you make a bet of $20 and you lose, you will be supposed to place a second bet amounting to $40. If you lose again, your next bet would be $60. You can also apply the opposite strategy. You can increase your bet when you win and decrease it when you lose.
The system is used due to its simplicity and small variance. However, your bets can still get too high. The system needs focus and discipline but doesn't forget that apart from winning money, you also visit casino premises in order to have fun.
3. Parlay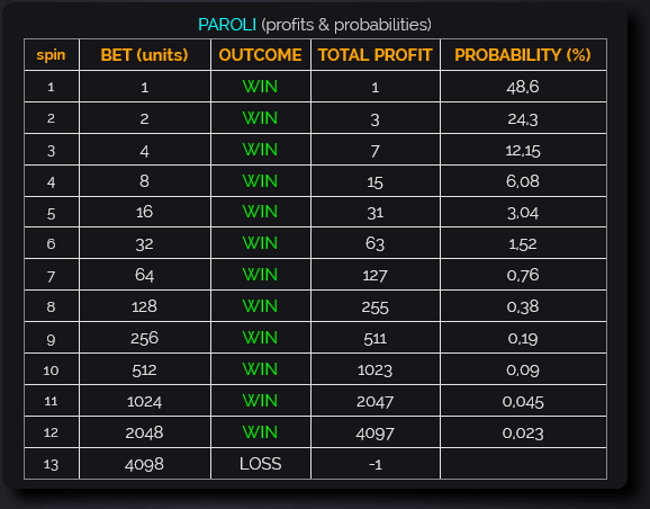 This system comes in the category of the positive progression betting systems and as such it requires you to double the bet when winnings are registered and keep wagering the same amount when they experience losses.
The Parlay and the Paroli are quite similar, which therefore means that if you decide to apply Parlay, you will not risk large sums of your bankroll. Once again, it is essential to set a betting limit and cash out your winnings when you reach it.
The Parlay helps you set your own winning goals and complete them by applying the system.
During your gameplay, get ready to experience small, frequent losses that can easily be compensated once you have a winning streak.
4. Paroli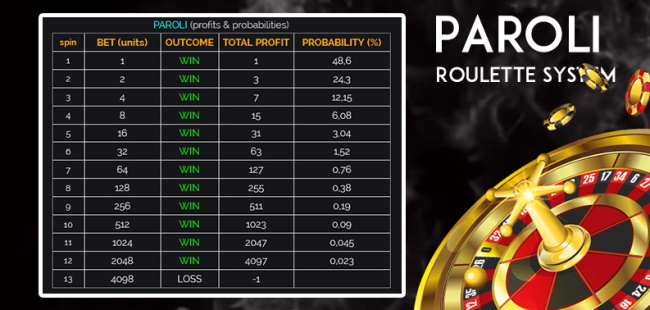 If compared with martingale, paroli system works the opposite way. You need to double the bet when you win. The chance of having a winning streak is higher, which means that Paroli is safer than the Martingale.
The primary goal of Paroli is that you can win a decent payout without shaking the stability of your bankroll. In addition, it is the best bet for long-term play.
As mentioned above, the Paroli is the opposite of Martingale. You need to double the bet after winnings are registered. But the fact is, Paroli system is not that easy to use. Although Paroli is safer than Martingale, it would be premature to say that every time you apply it, you will complete your roulette session with a solid payout.
Here you have to set your own limit. Before you start playing, you have to determine how many spins you are going to make and collect your winnings when you reach your limit.
The more games you take part in, the more likely you are to win. Practically, you can keep betting for as long as you win or until you reach the limit you have already set.
If you are not so lucky and you lose in-between, your bankroll will not be affected as you wagered chips that belonged to the bank anyway. Plus, you can easily compensate for your losses once you hit a winning streak.
5. Masse Egale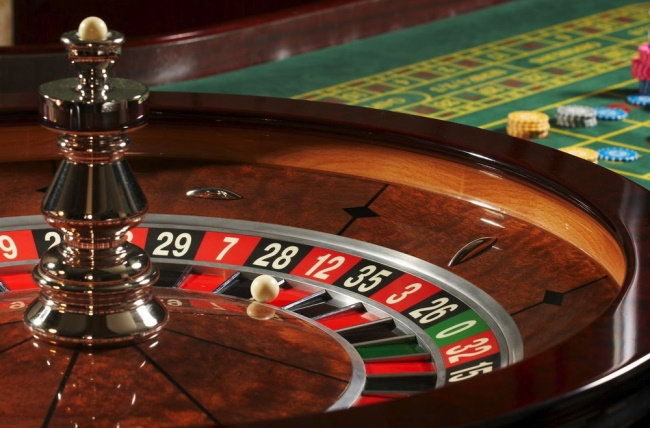 This betting system is yet another roulette betting system that features neither positive nor negative progression. Every bet you place is the same, regardless of the outcome of the spin. This betting system is applied for inside bets only.
You need to select one number and bet on it until you win. You can continue to do that for as long as you wish. However, before you start playing you should be familiar with the fact that during your gameplay. You will find a number of losing streaks followed by a number of winning streaks and vice versa.
It is not a popular system for long-term play. The system is applied mainly for playing the internal fields.
6. Kesselgucken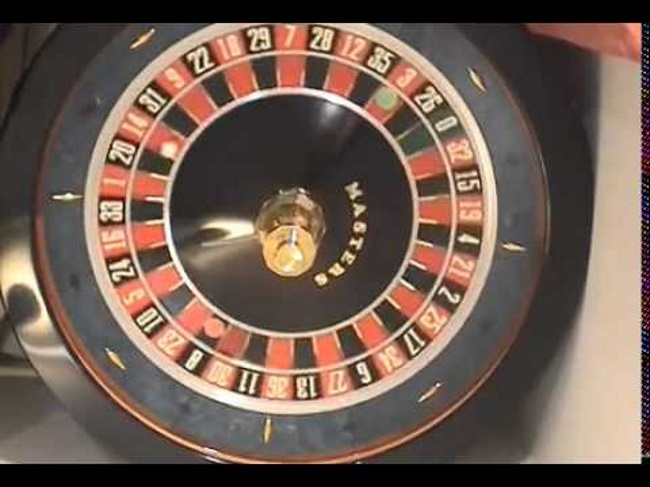 This system is not based on any complicated mathematical estimates and is also one of the 9 Popular Roulette Systems. Your goal is to give a correct prediction as to where the ball would land. The latter is not an easy task given the factors you have to take into account. You have to guess the speed of the roulette wheel and the starting position of the ball.
To use this system, you need to act fast. For the best results, you place your bet as late as possible. This will make it easier for you to "observe the wheel" and make the right decision.
Mostly this system is played for "French bets". Where you pick many numbers that are next to one another and place bets on them.
7. Oscar's Grind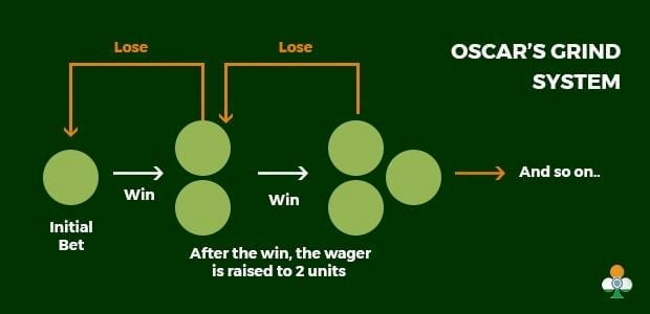 Also known as the "up-as-you-win" system, if you want to apply it, you are supposed to bet flat when you lose and double your bet when you win. Oscar's Grind makes it impossible to bet more than you need in order to compensate for the losses you have previously experienced.
8. Shotwell System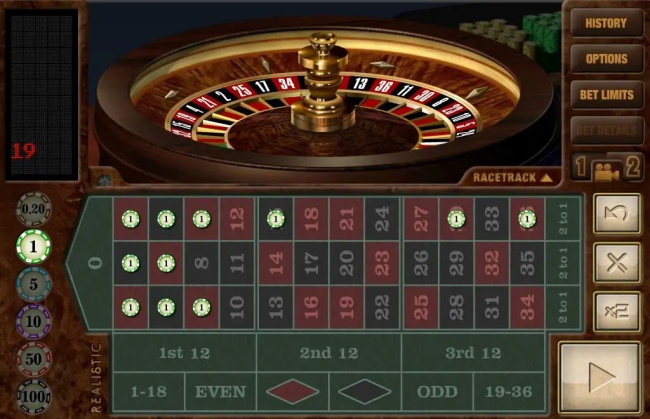 This betting system came into light date back to the 1980s. It is one of the 9 Popular Roulette Systems. It has gained major popularity due to the wise strategy it features. The objective of the Shotwell System is to cover particular numbers distributed in no more than 5 units. Suppose you bet one chip on the 6 number combo 1 through 6. You also place one chip on 20, 26, 8, and 10. It does not matter where the ball would land, the worst scenario is to be 3 pockets away from a number you have wagered on.
9. Betting on a Biased Wheel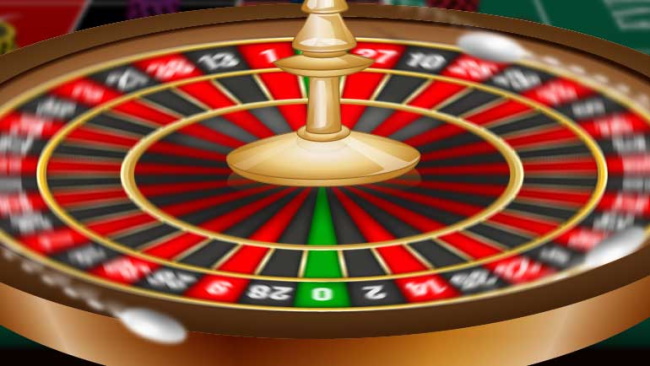 There is no roulette strategy that is perfect. There are small imperfections that made players call them "biased wheels". These imperfections can affect the results of the spin. However, casinos closely monitor the winnings on every roulette spin and quickly figure out which the biased wheels are. Hence, your chances of coming across a biased wheel are slender.
Synopsis
These are the most popular and widely used 9 Popular Roulette Systems that you can put on trial and watch out for the results yourself.