Live Casinos- The optimal strategy to play live games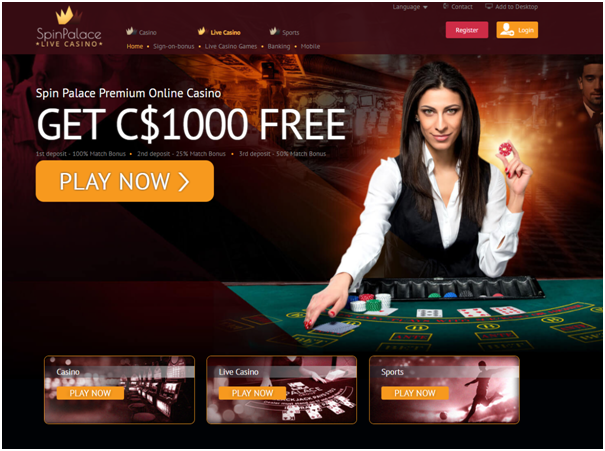 Live Casinos are one of the exciting features offered by online casinos. In this section you can find live dealer games where you play as if in a real casino environment, with all the noise and talking of the players, live dealers which is streamed live through web cams and brought straight to your gaming platform be it your PC or cell phone or tablet.
Live casinos need good internet, Wi Fi connection with great bandwidth or speed and your fast computing or phone device so that you can enjoy the live games without any interruption or distraction.
Live Games to play at Live Casinos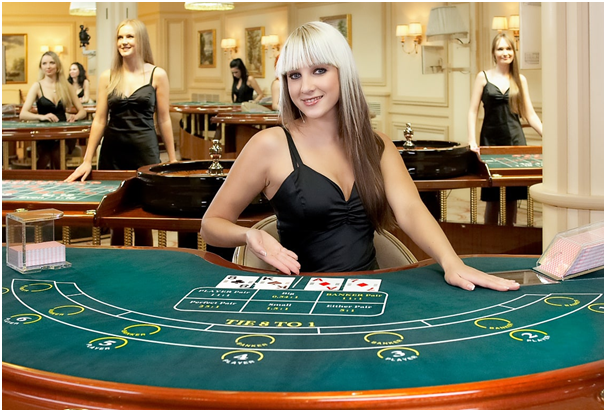 As you enter the live casino you find that there are different games available to play. Most popular and common games include the following:
Live Blackjack: Perhaps this was the first casino game to get the live dealer treatment at live casinos. You'll sit with up to six other players and enjoy blackjack with $5 stakes and up against a live dealer. This game seriously benefits from the real cards and action, though having 7-player tables can sometimes make it feel a little slow. You can find many variations of Blackjack to play powered by top notch gaming software providers.
Live Roulette: Live Roulette is another live game that is offered with variations. To make up for the bigger house edge on the American Roulette wheel, some casinos offer an enhanced payout version which swings things a little back to the favor of the players. This works great live, since a single dealer can spin for many different players who can place their own bets with the click of a mouse. In addition to the this variation, you'll find the player friendly European Roulette and the French Roulette variation too at some casinos.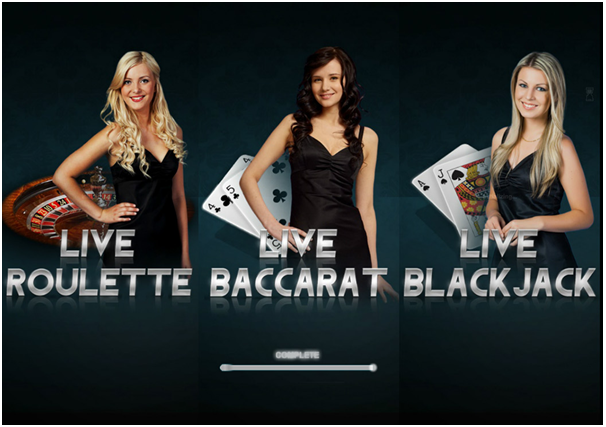 Live Baccarat: Most common live Baccarat variation found at Live Casinos is of Punto-Banco (Player / Banker). This is a simple game to play, though a complex game to deal, with the banker drawing rules depending on a long list of possible player card permutations. You can play for $5 stakes and up. Players new to this game are advised to avoid the tie bet, which has a huge house edge. The main game has around 1%, making it one of the better live dealer casino games.
Live Casino Hold'em: This is a player against house variation of Texas Hold'em. It is divided into two main stages, with the player deciding whether to fold or to continue after the flop. This game works great against a live dealer, and with some nice payouts for better poker hands, you can find yourself in line for the occasional windfall too.
Other Live Games: Many Live casinos offer other interesting live games like Sic Bo, Keno, Fortune wheel and more.
Note that all the games are brought to you by brand casino software companies – who then license their games to the individual casinos. This is why you will often see the same casino games and slots at brands you thought of as separate. This also happens with live dealer casino games, which are dominated by the bigger software houses that have the scale to be able to get enough players onto the tables to make this profitable.
Advantages and Disadvantages of Live Casinos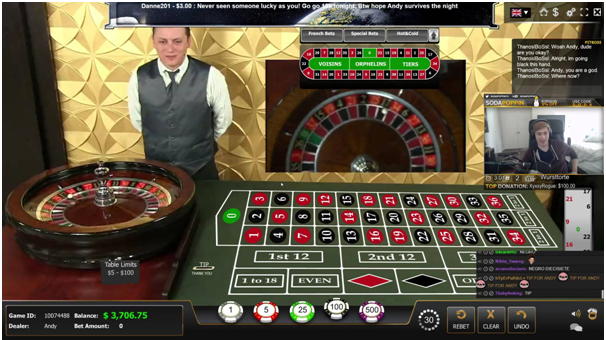 Though Live casinos are fun and exciting to take part in real gaming scenario, it has its own pros and cons.
Live Casinos are not offered for free. So that means you need to create a real money casino account to play the live games.
Usually  the stakes are higher here for games as the casinos need to take your money to pay the dealers and host the tables and camera technology. If you do not have the bankroll for $5 bets, then you'll need to build up a little more before you can hit these tables.
You will also find that several players are needed in many games. For example many blackjack games need a minimum of seven players. This does slow things down a little. There is nothing to stop you from playing a 'normal' game on the side to keep you focused though!
You'll also need to ensure you have a bandwidth that is good enough to cope with the live stream and steady enough not to drop at a critical moment. This is very crucial to solid play.
On the other hand Live casinos are fun to play.
You get time to socialize with beautiful live dealers who host the live tables and make new friends.
Also you can take part in Live tournaments and challenge other player in the game and win great cash prizes.
Best strategy to play at Live Casino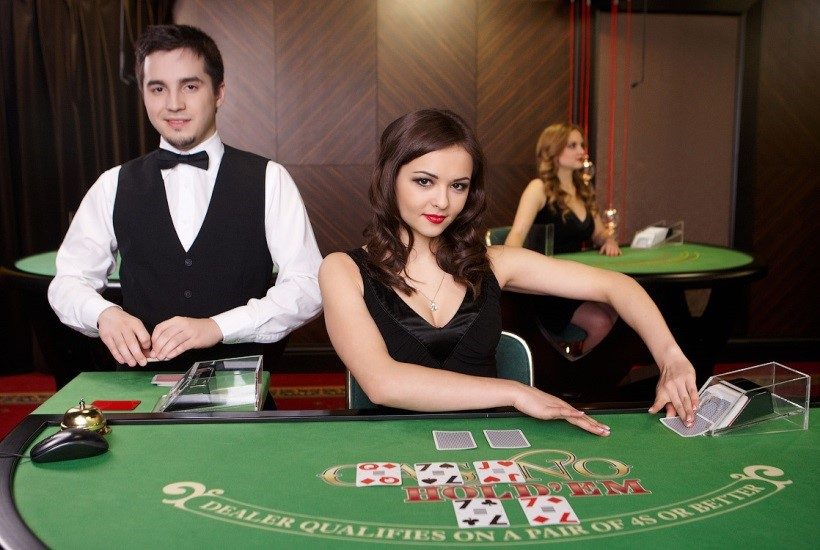 The best strategy to play at live casino is that you need to choose a reputed live casino to play Live dealer games with safety.That is why you have to do a research before you decide to join a certain live casino and enter your credit card details. Usually, reputable live casinos hold gambling licenses and have various certificates by well-known agencies that guarantee the safety of the site and the fairness of the games.
Secondly as said above you need to be fit enough from your end. Which means your computer, tablet or smartphone must be good enough to take the load of live streaming and doesn't hang out in between the game where then you lose everything. Also have good power back up, and enough internet bandwidth to have live games go all smooth.
It is better to check the technical requirements and ensure your computer and internet connection are good enough for smooth gaming. This way, you will neither face freezing of the live streaming nor will your connection drop in critical moments.
Avoid chasing losses and stop the game at once. You should stop the game at once if you are losing. As this is the most common mistakes players make at live casinos by chasing the losses. The general idea of visiting a live casino is to have fun and, hopefully, make some money. However, there are winning days and there are losing days. If the luck is not on your side and you lose several times in a row, the best move is to leave the casino and come back another day.
If you won some good cash and your luck is starting to change, it is advisable to leave the table before you lose everything, including your initial budget.
Turn to Pit Boss in case you find any issue. Every live casino has a supervisor or widely known as a Pit Boss. This person's job is to make sure that everything at the casino is according to the rules as well as to solve any problems that may arise during the games. Therefore, if you suspect that the dealer made some kind of a mistake you should turn to the Pit Boss for assistance. If you are right, your bets will be returned and the game will be cancelled.
Know the game rules and understand before playing. No matter what game you choose to play at Live casino, you should know the game rules and understand it before playing. It's better to practice free game at regular online casinos before staking your real money.
Follow the Live Casino Etiquette. Live tables usually serve more than one player. That is why you should be a good customer and know the live casino etiquette. You should occupy a seat only if you are ready to play right away as well as treat the players and the dealer with respect. Abusive language, complaining and promoting other live casinos is not acceptable!
Organize your time to play at live casino. Those who enjoy gambling at live casinos can sometimes lose track of the time. Therefore, it is very important to organize your time and dedicate one or two hours to gambling and then start doing something else. This way, if you have a winning strike, you will leave before you are able to lose you winnings.
Grab the best promotions. Live casinos often launch promotions specially designed for some of the live games. Hence, if you are a roulette fan you should try to find a live casino that offers bonuses to roulette players. These promotions can boost your bankroll and give you more chances to gamble and win. Before you decide to claim certain bonus it is a must to read the wagering requirements and bonus terms.
Finally remember that Live casinos are to be enjoyed and have full entertainment within your bankroll and quit when losing.