The New Live American Roulette Table Game From Evolution Gaming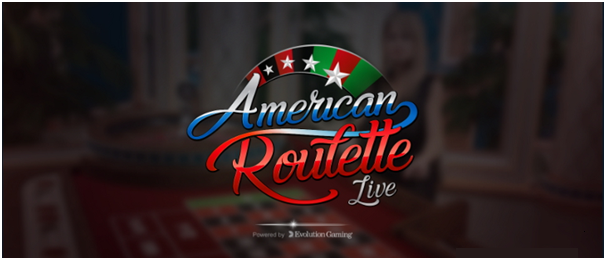 The new Live American Roulette table game from Evolution Gaming- How to play, kinds of bets and RTP of the game.
There's a new live roulette table now available for play at online live casinos. This new game developed by Evolution Gaming is an American roulette table with a 00 pocket that gives the casino a slightly better chance of earning from your hard-earned CAD than the European and French tables. This live casino game was launched last year in November 2017 and you can enjoy this live dealer action game in HD widescreen format that uses multiple cameras and the playing interface is uncluttered, feature-rich and intuitive.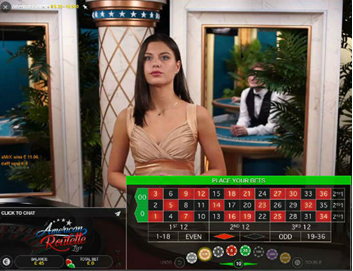 The Live American Roulette
As the players of Roulette are familiar, this game has many variations with commonly popular ones being European, French and American roulette. The difference between American and European roulette can be explained entirely by comparing the two wheels used on either table. In the image below Left is a European Roulette wheel. Right is an American Roulette wheel.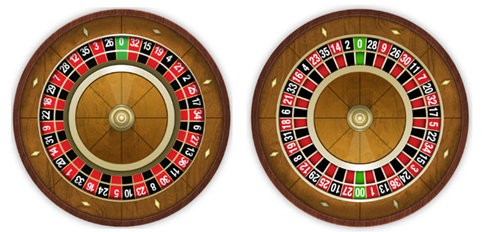 In the European roulette wheel look at the number order around the wheel which is not an important difference, just be aware of it if you bet Neighbors; and the American Roulette wheel has 1 extra pocket 00 and this is a really important difference.
Bets offered are the same (straight up, corner, odd/even, red/black etc.) and the payouts corresponding to those bets are identical to the European and French Roulette games. Identical bet payouts, combined with an extra possible outcome (38 rather than 37) result in substantially lower theoretical returns for American Roulette (94.74%) versus European (97.30%) or French tables (98.65% for even money bets).
How to play Live American Roulette?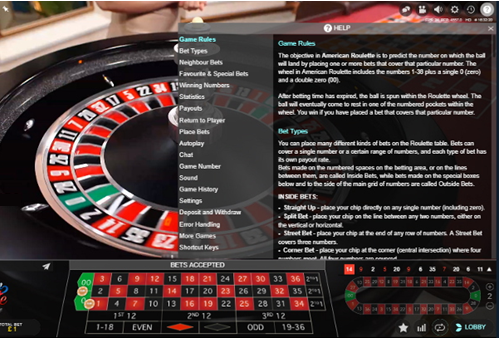 If you choose to play this game at live casinos from Evolution Gaming you will find that the video and audio streams are seamless. The game utilizes multiple state-of-the-art cameras that deliver several viewing angles, all in crystal clear HD quality. Players are privy to a wide-screen camera angle and Evolution's award-winning, intuitive betting platform.
The tables are graphically aesthetic, as well. Evolution's studio is elegantly designed to represent the opulence of a first-class resort property. The dealers are always clean-cut and professional. However, Evolution doesn't offer their croupiers a seat at the live American roulette table. Despite potentially aching feet, they are quite friendly.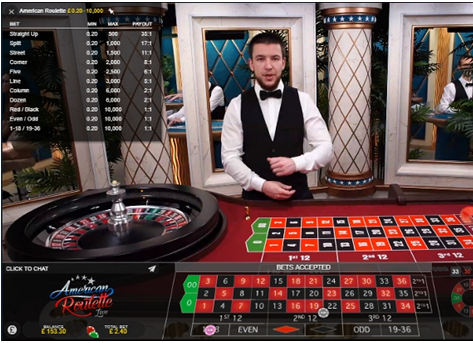 American Roulette adds extra choice and variety to the Live Roulette lineup. This double-zero variant adds extra excitement for players, including not only the 1–36 and zero (0), but also an additional double-zero number (00) on the wheel and table layout.
This popular variant has lower betting limits than other Roulette variants, with an additional 'Five Bet' for yet more variety and choice.
So when you start to play you may need to update/change your browser be it on your PC or smartphone as the game won't play with Internet Explorer.
The features of this live casino game offer a Roulette Favourite bet menu adding convenience, speed and fun to the game of Live Roulette. This personal menu allows players to customise and save up to 15 of their Favourite Bets, whether it be one bet or multiple bets, special or neighbouring bets. This feature speeds up betting for everyone and makes more complex betting simple. A player's Favourite Bets are available on any Roulette table meaning that players can place their saved bets time and time again.
The objective in the Live Roulette game is to predict the number on which the ball will land by placing one or more bets that cover that particular number. The wheel includes the numbers 1-36 plus two zeros in American roulette.  After the time allotted for betting has expired, the dealer releases the spinning ball within the roulette wheel. The ball will eventually come to rest in one of the numbered pockets within the wheel. You win if you have placed a bet that covers that particular number.
The different kinds of bets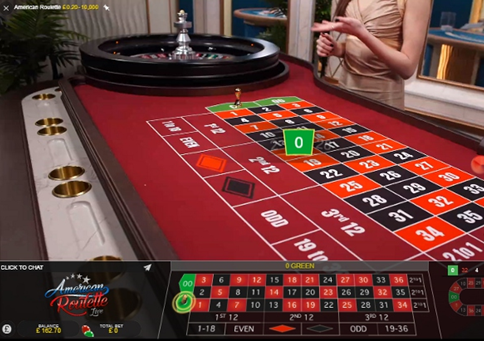 You can place many different kinds of bets on the Roulette table. Each type of bet covers a certain range of numbers, and each type has its payout rate. Bets that are made on the numbered space or the lines between them are called Inside Bets, while the bets made on the special boxes below and to the left of the board are called Outside Bets.
The inside bets
Straight Up – place your chip directly on any single number (including zero). Split Bet – place your chip on the line between any two numbers, either on the vertical or horizontal. Street Bet – place your chip at the end of any row of numbers. A street bet covers three numbers. Corner Bet – place your chip at the corner where four numbers meet. All four numbers are covered. Line Bet – place your chip at the end of two rows on the intersection between them. A line bet covers all the numbers in both rows, for a total of six numbers.
The outside bets
Column Bet – place your chip in one of the boxes marked "2 to 1" at the end of the column that covers all 12 numbers in that column. The zero is not covered by any column bet. Dozen Bet – place your chip in one of the three boxes marked "1st 12", "2nd 12" or "3rd 12" to cover the twelve numbers above it. Red/Black – place your chip on the Red or Black box to cover the 18 red or black numbers. The zero is not covered by these bets. Even/Odd – place your chip in one of these boxes to cover the 18 even or odd numbers. The zero is not covered by these bets. 1-18/19-36 – place your chip on either of these boxes to cover the first or latter 18 numbers. The zero is not covered by these bets.
The neighbour and special bets
Click the neighbour and special bets button to view a list of special bets as well as the racetrack, which facilitates the placement of neighbour bets and special bets. Re-click the button to close/re-open this feature. It will close automatically when betting time has expired.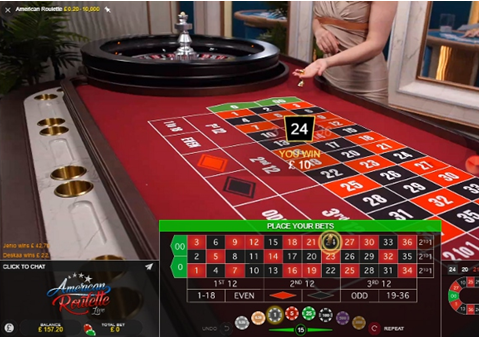 Note that the theoretical return-to-player percentage in this game is stated as 94.74% while the European Roulette table returning is 97.3%, and the French Roulette table RTP is 98.65%. Every/any bet you place on this table (straight up including on 0 or 00, red/black, odd/even etc.), offers inferior returns to the corresponding bet on the European and French tables. Wanna try this game then visit William Hill online casino and many others of your choice.